Charm City Burger Company (Deerfield Beach)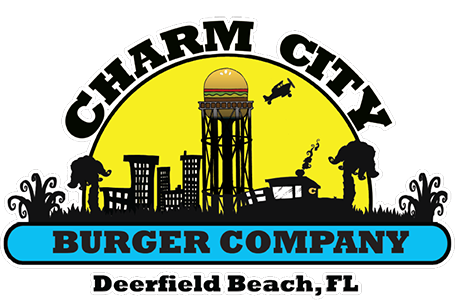 ***** Charm City Burger Company, 1136 East Hillsboro Boulevard, Deerfield Beach, Florida 33441, (954) 531-0300.
Last night Jeff Eats and Mrs. Jeff Eats ate at fast-food burger joint, Charm City in Deerfield Beach.
Nothing for nothing, we have been eating at this- order at/pickup at the counter joint since April 17, 2008-so last night's terrific- bacon cheeseburger, turkey burger, French fries, onion rings came as no "surprise"…
Seeing all of those New York, New Jersey. Ontario license plates on the road,
Just thought I'd mention Charm City to you guys- who have yet to eat there…this joint is an absolute winner! Trust Jeff Eats when I tell you that Charm City runs circles and I do mean circles around fast food burger players like Five Guys and BurgerFi -now, there is absolutely nothing wrong with either of them (Jeff Eats is a real steady customer of both chains), but they are cookie cutter mold type operations, like-you've seen one, you've seen them all!…Charm City is a one-shot-deal, there is only one…so on and so forth.
Great food. Super reasonable prices. Cool vibe!
Printed down below is Jeff Eats' "review" from October 20, 2009.
_____
October 20, 2009
***** Charm City Burger Company, 1136 East Hillsboro Boulevard, Deerfield Beach, Florida 33441, (954) 531-0300.
Back on April 17, 2008 I did a review on a "burger" joint named Charm City Burger Company. If you check that review, I absolutely loved the food. At that time, the joint had only been open for something like 3-months…and I questioned its "longevity" based on its piss-poor location. To make a long story short…the joint is still around– has new owners– has a cult-like following—and the food is absolutely DELICIOUS.
At this stage of this re-review check www.charmcityburgers.com for menu/prices.
All I can tell you, is that I was in the joint last week…delicious bacon cheeseburger, terrific french fries, great sweet potato fries, incredible chicken wings. sensational grilled chicken and soft shell crab rolls.
Order/pickup at the counter. Absolutely nothing fancy here. Just…outstanding food.
Charm City is open 7 days a week for lunch and dinner.