Zona Fresca (Fort Lauderdale, Plantation, Pompano Beach, Coral Springs, Delray Beach, Miami, West Palm Beach)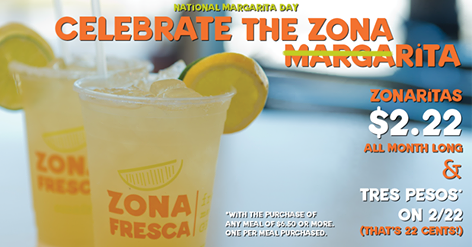 ***** Zona Fresca.
Just this minute, Jeff Eats received the below e-mail from Lexi Robinson who "handles" pr-for Zona Fresca here in South Florida.
Yes Lexi! your pr-story can be covered by the Jeff Eats blog…
Interesting to note, back on 12/3/2008 Zona Fresca only had 2- Florida locations (see review) and today it has 7 Florida locations…I guess somebody else- besides Jeff Eats really likes Zona Fresca's food!
You can find Zona Fresca store addresses at zonafresca.com.
HERE'S LEXI'S E-MAIL:
From: Lexi Robinson
Subject: Blog Request – National Margarita Day at Zona Fresca
Message Body:
Hello,
On February 22nd, Zona Fresca will be selling ZonaRitas (margaritas) for only 22
cents each. In addition, throughout the month of February, they will be selling
margaritas for only $2.22 each. I have a press release and jpg I can email you
that have all the details. I was wondering if this could be covered on your
blog.
Thanks!
______
Zona Fresca (Fort Lauderdale & Plantation)
Posted on December 3rd, 2008 · Fort Lauderdale Mexican Plantation
***** Zona Fresca, 1635 North Federal Highway, Fort Lauderdale, Florida 33305 (954) 566-1777…1095 South University Drive, Plantation, Florida 33324 (954) 370-3332.
If "fast-food" Mexican stuff like… burritos, tacos, quesadillas, nachos and totillas are your game… then you have to try Zona Fresca which runs circles around Taco Bell. For right now, there are only 2 locations…Fort Lauderdale and Plantation…Take a look at this joint's website www.zonafresca.com for menu/prices.
Zona Fresca is open 7 days a week from 11am-9pm.