The Fourth Annual Craft Brew & Wingfest (Royal Palm Pointe Park- Vero Beach)
* The Fourth Annual Craft Brew & Wingfest.
Jeff Eats and Mrs. Jeff Eats are going…
For you would be burglars out there, we booked a hotel room for 2/21/16 night- so we won't be back home much before 7pm on 2/22/15…If and when you do come-by, please do Jeff Eats a favor and check-on Lucy May for me…thanks!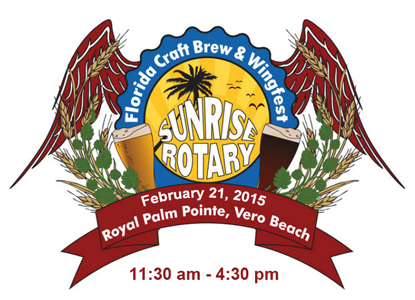 from: floridacraftbrewandwingfest.com.
The Fourth Annual Craft Brew and Wingfest will be held on February 21, 2015
Please join us for a day of craft brew sampling and delicious food on Saturday, February 21, 2015 from 11:30 am to 4:30 p.m. A fun spirited time will be had by everyone at this FREE family friendly community event. Our rain date is the following Saturday, February 28, 2015.
Our event will be held at Royal Palm Pointe Park on mainland Vero Beach off Indian River Boulevard just south of the Merrill Barber Bridge. Parking is available in 800 spaces along the Pointe, with secondary parking and bus transportation from the Parc24 garage on Indian River Blvd, ½ mile south of the event, between the Bridges. Water transportation from Riverside Park will be available.
Last year we were blown away by the community response when over 5,000 attendees showed! Guests with ID may purchase a bracelet at the event allowing tastes of over 150 Craft and Micro Brews at booths throughout the City park, or may purchase single glasses of selected beers. Unlimited tasting bracelets are $35.00 at the door on Saturday!
Local restaurants and groups will sell flavorful chicken wings to the attendees, competing for "Best Vero Beach Wings" designation. Other food items from Royal Palm Pointe establishments, as well as sodas and kid-friendly food will be available for purchase.
Two stages and four bands will provide entertainment.
Proceeds benefit the charitable projects of the Vero Beach Sunrise Rotary Club. Click here to learn about the Rotary Club Vero Beach Sunrise or Rotary International.
This event is made possible through the generous support of our local business community who sponsor the brew tents, bands and logistical needs of this great free event.
Thank you, and see you all on February 21!

Lucy May