DISH OF THE WEEK (Sunday- 2/15/15- Siamo- Miami Springs)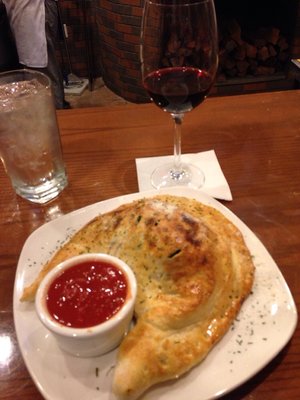 ***** DISH OF THE WEEK (Sunday- 2/15/15).
One of Jeff Eats; favorite menu items…
CALZONE DI SPINACI (ham, spinach, mozzarella cheese, marina sauce)
$12
Siamo
307 North Royal Poinciana Boulevard
Miami Springs
(305) 888-1300
siamopizza.com
Latest Review: 8/19/12
Let me start by saying that the Calzone DI Spinaci is absolutely off the chart!
The only problem that Jeff Eats has with wood burning/brick oven pizza joint-Siamo is that it isn't closer to my house in Boca Raton. This restaurant makes dynamite stuff. I just "picked" the calzone to get the discussion started, but I am telling you that Siamo's appetizers, pizzas, panini, desserts- kill!
All I can say- if Siamo was by my house, I'd be a real steady customer!