J28 Sandwich Bar (Hollywood)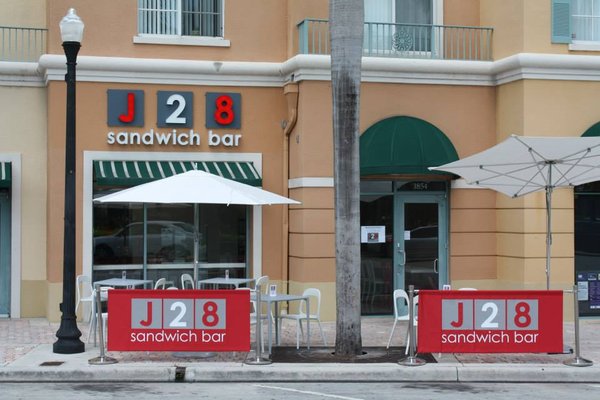 ***** J28 Sandwich Bar, 1854 North Young Circle, Hollywood, Florida 33020, (754) 208-2902.
Got something real good for you guys…J28 a terrific fast food Peruvian sandwich joint in Hollywood. Order at the counter/pickup at the counter, seating inside/outside.
Take a look at the below "food" pictures…trust Jeff Eats when I tell you, that the "food" actually tastes as good as those pictures "say" it does! By the way, if you aren't impressed with the photos-I'm sure that Jeff Eats will have another-joint for your consideration, in a day or two or three!
Absolutely loved this joint and highly recommend that you give it a shot.
No fooling here, after eating the chicharron- and chicken breast stew- for a brief moment, Jeff Eats actually contemplated renouncing his US citizenship and moving to Lima (that's Peru's capital city)…but Mrs. Jeff Eats talked me (him) out of it!
Just so you know, the joint's menu is also printed down below…for other info check j28sandwichbar.com.
J28 Sandwich Bar is open Sunday,Tuesday-Thursday 11:30am-9pm, Friday-Saturday 11:30am-10pm, closed Monday.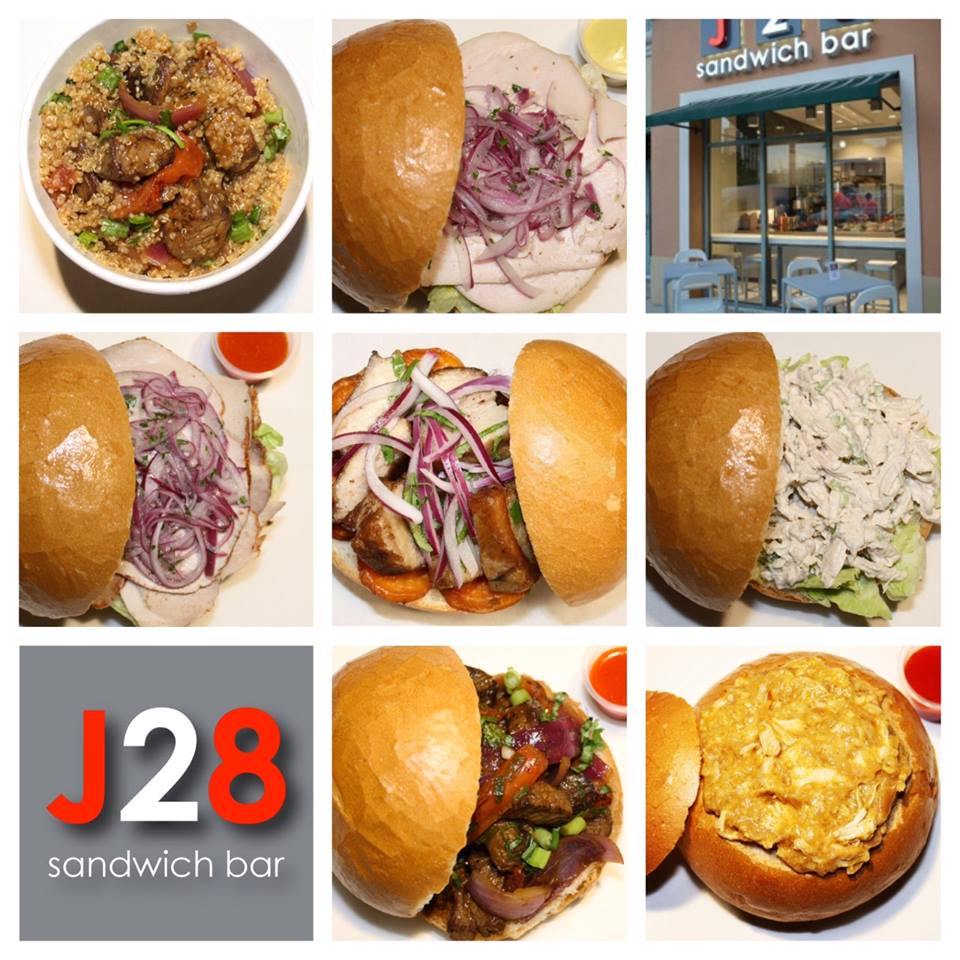 J28
MENU
PERUVIAN INSPIRED SANDWICHES
J28 SIGNATURE BUTIFARRA
Sliced pork, lettuce, pickled onions, served on a roseta roll, side of boiled potato or cancha toasted corn.
$8.50
TURKEY
Sliced turkey breast, lettuce, pickled onions, served on a roseta roll, side of boiled potato or cancha toasted corn.
$8.50
CHICKEN SALAD
Chicken breast mixed with finely cut celery and mayonnaise, served on a roseta roll, side of boiled potato or cancha toasted corn.
$7.50
AJI DE GALLINA BREAD BOWL
Chicken breast stew, hot and creamy, served in our own fresh roseta roll, side of boiled potato or cancha toasted corn.
$9.50
LOMO SALTADO
Certified angus beef, red onion, tomato, cilantro, chinese onions stir-fried, served on a roseta roll, side of golden potatoes.
$13.50
MUSHROOM SALTADO
Mushrooms, red onion, tomato, cilantro, chinese onions stir-fried, served on a roseta roll, side of golden potatoes.
$11.50
QUINOA LOMO SALTADO
Certified angus beef, red onion, tomato, cilantro, chinese onions stir-fried, served with peruvian quinoa.
$16.50
QUINOA MUSHROOM SALTADO
Mushrooms, red onion, tomato, cilantro, chinese onions stir-fried, served with peruvian quinoa.
$13.50
PERUVIAN INSPIRED QUINOA
CHICHARRON
Pork belly, pickled onions, sweet potato, served in our own fresh roseta roll.
$10.50
DRINKS
PURPLE CORN REFRESHMENT
Chicha Morada
$2.50
FOUNTAIN DRINKS
$2.00
SAUCES
YELLOW PERUVIAN PEPPER
Salsa de Aji Amarillo
ROCOTO PERUVIAN PEPPER
Salsa de Rocoto
ROCOTO FIRE
Rocoto bien picante
PERUVIAN BEER
Cuzquena, Cristal
$4.00
AMSTEL, CORONA BEER
$4.00
WINE
Trumpeter Malbec, Las Perdices Sparkling, Sauvignon Blanc
$15.00
DESSERTS
LUCUMA FLAN
$3.50
BREAD PUDDING
$3.50
ORGANIC PERUVIAN COFFEE
$1.80
INKA COLA
$2.50
HUANCAINA
(YELLOW PEPPER WITH QUESO FRESCO AND MILK)
COFFEE/TEA
ASSORTED TEAS
$1.80
OPEN HOURS
Tuesday – Thursday : 11:30am-9:00pm
Friday – Saturday : 11:30am-10:00pm
Sunday : 11:30am-9:00pm
Monday : Closed