A Bronx Tale Starring Chazz Palminteri (Seminole Coconut Creek Casino- Coconut Creek)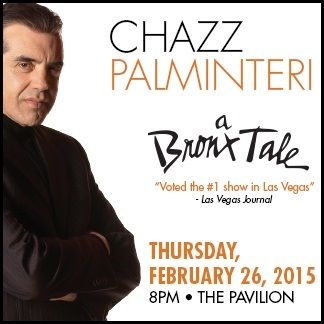 * A Bronx Tale Starring Chazz Palminteri.
Way back on January 2, 2015 Jeff Eats told you guys about- A Bronx Tale which plays one night only- Thursday- February 26, 2015 at the Seminole Coconut Creek Casino…
I know some people and I'm hearing that there are a handful of tickets left- so if you wanna go, you'd better get busy and call or do something!
Jeff Eats is taking Mrs. Jeff Eats, let's call it a belated Valentine's Day present!
Trust Jeff Eats, you definitely will love this show, or else!
_____
January 2, 2015
* A Bronx Tale Starring Chazz Palminteri
You think I'm funny? Leave the gun take the cannoli. Look how they massacred my boy… I know- wrong-gangster, whatever!
Long story short, don't miss this show- it kills (pun intended)!
*****
Release:
A Bronx Tale Starring Chazz Palminteri Set for Seminole Casino Coconut Creek Thursday, February 26, 2015
Tickets on Sale Friday, December 26
The hit play, "A Bronx Tale," starring actor Chazz Palminteri, is coming to The Pavilion at Seminole Casino Coconut Creek on Thursday, February 26, 2015, at 8 p.m.
Tickets priced at $45/$65/$80 will go on sale Friday, December 26, at 8 a.m. via Ticketmaster locations, online at Ticketmaster.com, or by calling1-800-653-8000.
A New York City native, Palminteri originally wrote the script for "A Bronx Tale" for the stage and performed it as a one-man show in Los Angeles. It premiered in 1990, achieving great critical success. He then moved the show to New York City where it had a successful off-Broadway run.
"A Bronx Tale" tells the story of Cologero Anello, a young boy from a working class family who gets involved in the world of organized crime.Cologero's father is a bus driver who tries to instill working-class family values in his son. As Cologero gets older, the aura and mystique of the Mafia, and the charms of Sonny (the local mob boss who befriends Cologero and ends up becoming a father figure to him), become difficult to resist. As Cologero comes of age, he must struggle with the choice of following his beloved father's values or submitting to the temptations of a life in organized crime.
Academy Award winning actor Robert DeNiro helped turn the play into a movie, which premiered in 1993. Palminteri starred opposite DeNiro, who chose the script for his directorial debut.
Palminteri has more than 50 movies to his credit including "The Usual Suspects," "Analyze This," "Mulholland Falls" and "Bullets over Broadway," for which he was nominated for an Academy Award for Best Supporting Actor.