Munchiez A Unique Sandwich Joint (Boca Raton)
***** Munchiez A Unique Sandwich Joint, 158 Northwest 20th Street, Boca Raton, Florida 33431, (561) 395-0833.
Munchiez…trust me, I get the name- hey! I went to college!
Let me start by saying that Jeff Eats absolutely loved this- order at the counter "hole in the wall" sandwich joint located in a rundown strip center- a hop, skip and a jump from FAU's Boca Raton campus. Just so you know, Munchiez has maybe 2-tables outside/and a handful of counter seats so don't be planning a big-Bar Mitzvah or a Wedding Party there…
Munchiez menu has a nice mix of salads, soups, hot & cold subs/sandwiches/wraps, burgers/hot dogs- trust me if you got the munchies you'll find what to eat…of course, the stuff you "eat" may taste like-something else and you may not remember that you ate the stuff in the first place…but that's a whole-nother story for another day!
If I remember correctly, a recent outing had Jeff Eats and Mrs. Jeff Eats "trying" #6. The Willie Nelson munchiez house roast beef, apple wood bacon, vermont aged cheddar, coleslaw, french fries, red onions, b.b.q. sauce, texas toast, served hot $9.99…#16. Bill Clinton With T.H.C. "this one he inhaled" our bill clinton combined with smoked turkey, virginia ham, vermont aged cheddar, american cheese, aioli, texas toast $9.99…17. Funky Fungi marinated grilled portabella, gouda, roasted red pepper, grilled red onions, spinach pesto, basil, focaccia kaiser roll $8.99- and I gotta tell you that everything was right on the money.
Like I said 4.5 seconds ago, Jeff Eats loved Munchiez. The food, the munchies' theme/decor, the prices, the vibe…just right!
Man! You can check menu/pictures/info at munchiez420.com.
Munchiez A Unique Sandwich Joint is open Monday-Thursday 11am-9pm, Friday-Saturday 11am-3am, closed on Sunday.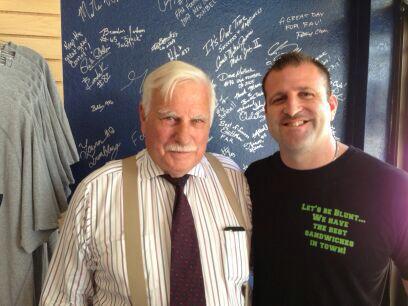 This guy really fits in! A real life of the party!