The Burger Freak (Fort Lauderdale)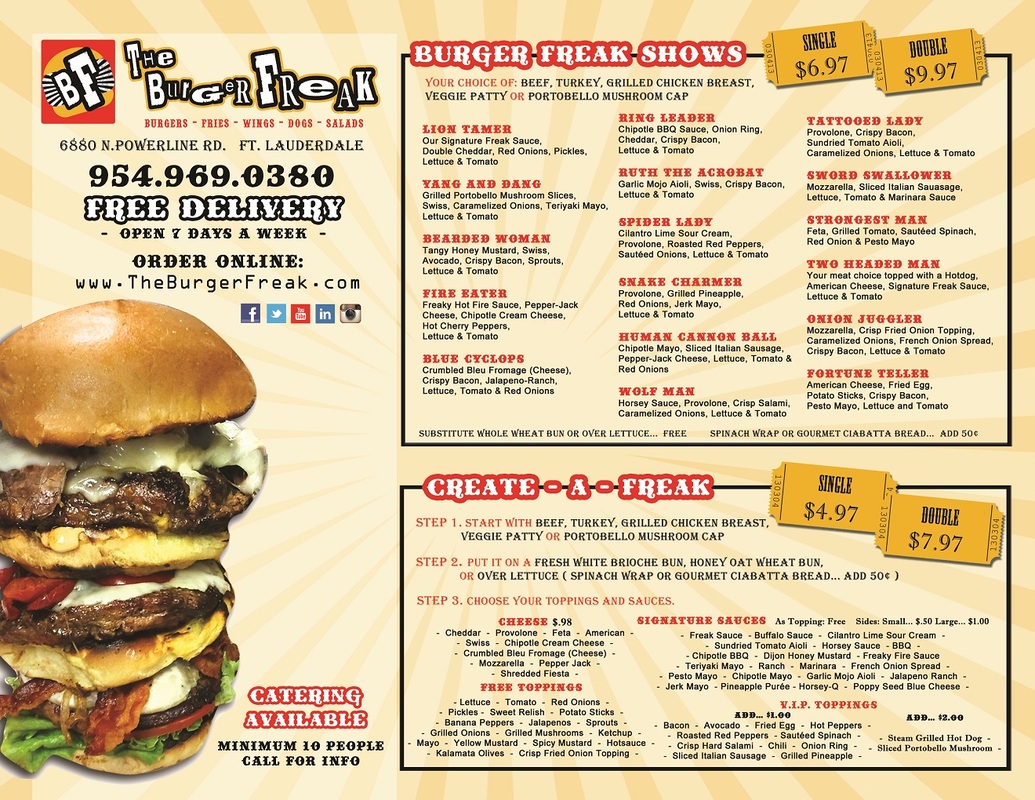 ***** The Burger Freak.
This "one" is what Jeff Eats calls- an out of sight, out of mind joint…
Hadn't been to The Burger Freak since my original writeup (7/11/12 down below-)…
Long story short, got "back" there yesterday and this joint's food is terrific.
Not to get too philosophical or nothing, but the guys-behind The Burger Freak- offer interesting "toppings and combinations" that most other burger joints don't-even go near!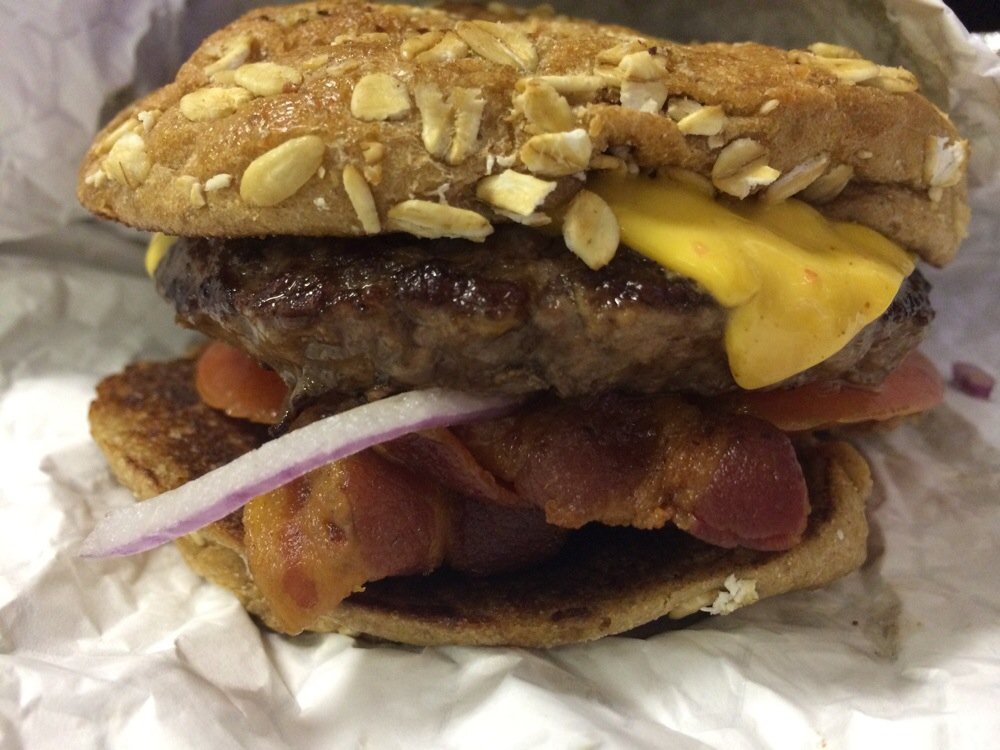 Definitely one of the best fast-food "burger" joints in South Florida.
I also note, that The Burger Freak is now open 7 days a week…Monday-Saturday 11am – 8pm and Sunday 3pm – 8pm.
________
The Burger Freak (Fort Lauderdale)
Posted on July 11th, 2012 · American Fast Food Fort Lauderdale
***** The Burger Freak, 6880 North Powerline Road, Fort Lauderdale, Florida 33309, (954) 969-0380.
Got a real good fast food-takeout burger joint for you…The Burger Freak- in Fort Lauderdale. Not too many people know about this one yet–it's only 2 weeks old.
The Burger Freak is a real hole-in-the-wall, I'm thinking 600 sq. feet, order at/pickup at counter…there are only 6 seats, so don't really plan on eating there. You can check menu/prices at www.theburgerfreak.com.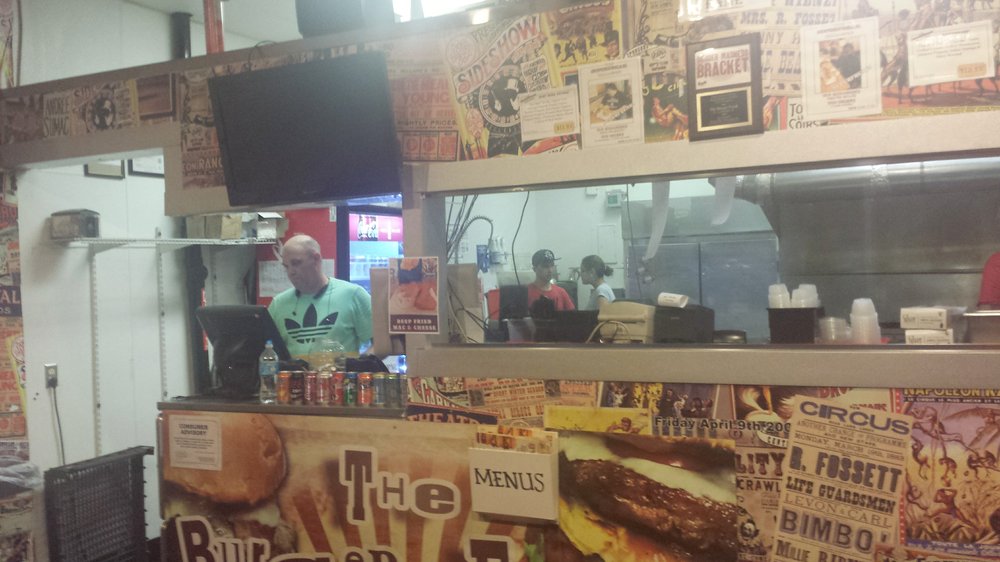 I'm gonna assume that you guys know what "reinventing the wheel" means. Rather than rehashing old stuff, suffice it to say, that in the past few years, America's hamburger "business" has seen more new fast food and full service players- than there are Chins in a Chinese phonebook. It seems to me, that every day a new "one" pops up by-my-house…you know the players—chains like Five Guys, BurgerFi, Elevation, Smashburger, CG, Shake Shack…and one-offs like Between The Bun, Charm City, The Office, Gimme A Burger, HiWay…Now nothing for nothing, Jeff Eats has never met a burger and fries that he didn't like…but you and I both know, that this burger game of musical chairs will soon end and there are going to be a ton of unhappy burger entrepreneurs out there.
Now, let's get back to- reinventing-the-wheel…
It just seems to me, give or take a small handful, most of the new burger players out there-have actually convinced themselves that they have reinvented the wheel. I've heard more stories about- organic this, corn feed that, fresh this and natural & healthy that —than you can shake a stick at. I got a big surprise for them, Jeff Eats and most of you guys couldn't give a rat's ass about their "burger's story"—the only thing we really care about, TASTE.
Anyway…today, I tried The Burger Freak and had a real nice chat with Adam- one of its owners. To make a long story short, these guys aren't trying to reinvent anything. Their goal, to make a delcious burger and bang it out at a real reasonable price. These guys are "smart"—they figured out that since the wheel (in this case-the burger) had already been invented…their "hook" would be to dress-up that burger with imaginative/creative toppings. Sort of like, buying a car and then jazzing it up with fancy wheels!
Now, let's talk food…I am telling you, this joint makes one of the best fast-food burgers that Jeff Eats has ever eaten. For our purposes, I did a 6oz. flat-top grilled hamburger/American cheese/grilled onion/mayo/ketchup/kaiser roll ($6.97) with french fries. Trust me, like I said a few seconds ago, one of the best I've ever eaten. The french fries were a skin-on frozen product and they were also delicious.
When you check The Burger Freak's website, you will find that in addition to beef burgers, its also got turkey/chicken breast/veggie/mushroom burgers. The guys behind The Burger Freak are very smart…no reinventing the wheel and no reinventing the assembly line…Henry Ford and Subway already took care of that! Pick your patty, pick your bread, pick your toppings (there are literally tons of them). For the less creative, The Burger Freak has a sign-board filled with burgers and hot dogs like "The Elephant Man"–"The Tatooed Lady" that have pre-ordained toppings.
I absolutely loved The Burger Freak.
Let me go out on a limb here…
The Burger Freak would make a great "franchise"…600 square feet, circus-side show posters' decor/limited menu/reasonable prices/delicious food. Homerun–in college towns.
The Burger Freak is open Monday-Friday 10:30am-2:30pm closed on Saturday & Sunday…Yeah yeah yeah, I know the hours sound nuts, but the location is in an industrial area—so the play here is office and blue collar workers.