Orange Sunshine
* Orange Sunshine.
Hands down, Orange Sunshine is one of South Florida's premier 60's Rock N Roll Oldies Bands.
Jeff Eats has seen Orange Sunshine numerous times and this 5-member band has never disappointed.
This morning- Jeff Eats received an e-mail from Orange Sunshine which had its February-April 2015 schedule. A cursory look at the dates- has the band playing a number of FREE SHOWS. As a matter of fact, tonight- Orange Sunshine is playing a food truck event in Margate and tomorrow afternoon at a park in Royal Palm Beach …
If you are a fan of 60's Rock N Roll…plan on seeing these-guys. They really put on a great show!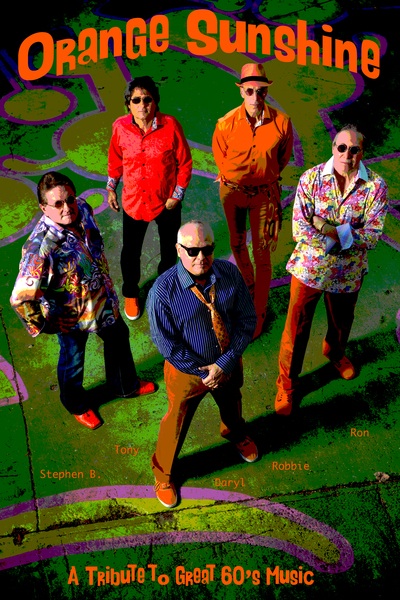 orangesunshine.biz
Saturday February 7 @ 6pm
The city of Margate's
"Sounds at Sundown & Food Trucks Concert Series"
located @ the NW Corner of Margate Blvd. & 441
BRING YOUR LAWN CHAIRS and COOLERS!!!
Sunday February 8 @ 330p
Commons Park Royal Palm Beach
Winter / Spring Concert Series
http://www.royalpalmbeach.com/DocumentCenter/View/4570
Orange Sunshine's 2015 Calender
FEBRUARY
Saturday February 7th City of Margate 6:00p
Sunday February 8th City of Royal Palm Beach 3:30P
Wednesday February 18th Wynmoor 9:00p
Friday February 20th St. Coleman's Italian Festival 5:00p
Saturday February 21st The Grove Boynton Beach 8:00p
Thursday February 26th St Ambrose Church Carnival 8:30p
Saturday February 28th The Palms @ Weston 7:00p
MARCH
Sunday March 1st Cascades Port St. Lucie 8p
Thursday March 12th Delray Marketplace
Thursday March 19th Midtown Palm Beach Gardens 6:00p
Friday March 20th Boca Country Club
APRIL
Friday April 3 Boondocks Ramrod Key 7:00p
Saturday April 4 Ramrod Key 7:00p
Friday April 10 City of Coconut Creek 7:00p
Saturday April 25th Pompano Beach Seafood Festival 12:30p
Check the ORANGE SUNSHINE website www.orangesunshine.biz for additional dates, times, videos etc
If you would like ORANGE SUNSHINE to perform for your next event contact Tony V @ 954-648-4432 or tonyv54@comcast.net