Las Vegas- White Castle!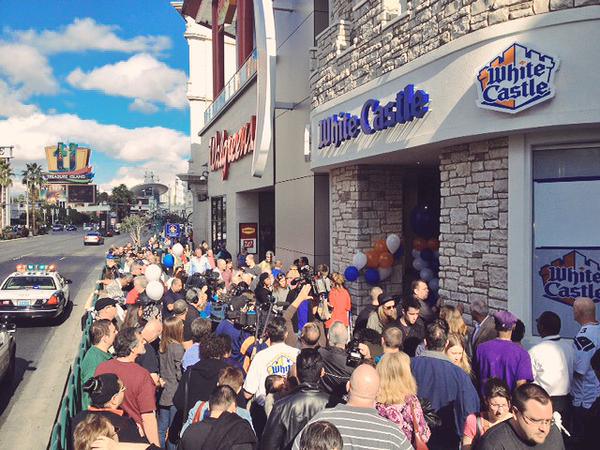 * Las Vegas- White Castle!
Did you guys hear about the White Castle that opened last week in Las Vegas? The story was all-over-the news!
First to Know (firsttotoknow.com) has a real nice summary…
Jeff Eats kinda-already knows the answer- How do you think White Castle would "do" down here in South Florida?
______
Las Vegas' First White Castle Closes After 24 Hours
January 30, 2015
By First to Know
The Las Vegas White Castle opening turned into a closure in less than 24 hours — not due to frost, fire, or vermin, but because of overwhelming demand.
The brand new 24-hour White Castle opened in Sin City Tuesday afternoon around 2pm, but the restaurant had to close its doors after a constant stream of customers overwhelmed the business. The company tweeted, "Due to overwhelming demand #whitecastlevegas is currently closed for maintenance and to restock. We will let you know when doors are reopen!" (See actual tweet below.)
A White Castle Vice President confirmed this information with the Las Vegas Review-Journal, saying the restaurant was selling burgers at a rate of 4,000 per hour for the first twelve straight hours. There were no other problems, per se, the staff simply needed time to clean the location, restock supplies, and prepare for the next onslaught of eager eaters. The location reportedly reopened at approximately 3:15 pm Wednesday.
Las Vegas is known for housing popular "guilty pleasure" restaurants that can't be found outside of their respective regions or cities, making them must-visit destinations for tourists. Casinos have opened such iconic locations as Pink's Hot Dogs from Los Angeles in the Planet Hollywood Casino, and New York City's Shake Shack recently found a home inside the New York, New York Casino.
The new 24-hour White Castle is located in the Best Western Plus Casino Royale on the Las Vegas Strip, which is a smaller venue located between The Venetian and Harrah's Las Vegas. The next nearest White Castle location had been more than 1,500 miles away in Missouri