Shop Pop Comic Con (Broward County Convention Center- Fort Lauderdale)
* Shop Pop Comic Con.
Jeff Eats and Mrs. Jeff Eats are going!
By the way, Elvira is pushing 64- and Zacherley (not scheduled to appear) at 96 still makes personal appearances!
This is gonna be a fun- event!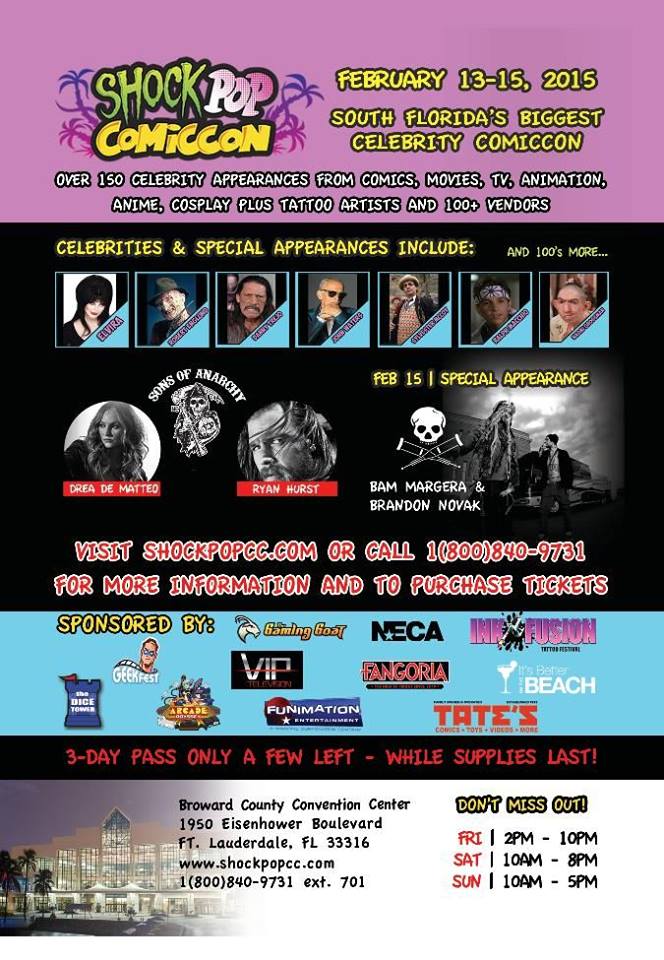 Dates:
Friday Feb. 13,14 & 15, 2015
Show Hours:
Fri: 2-10, Sat: 10-8, Sun: 10-5
Location:
Broward County Convention Center
1950 Eisenhower Blvd
Fort Lauderdale, FL. 33316
Welcome to Shock Pop Comic Con we are a pop culture / anime / cosplay / comic con convention that is located in Fort Lauderdale, Florida. We will be showcasing dozens of cosplay and costuming events over the course of the 3 day weekend. In addition, Shock Pop Comic Con always brings in a roster of guest creators and / or celebrities for attendees to meet. Special attention is given to keeping the convention fun and accessible to families with low admission. Come join us at our next event! Where else in the world will you see Hobbits, Superheros, Jedi, Demons, Angels and perhaps a Wizard?