SWAY A Tribute To Michael Buble' (Seminole Casino Coconut Creek- Coconut Creek)
* SWAY A Tribute To Michael Buble'.
Just between you and me, Jeff Eats and Mrs. Jeff Eats have been married 40 years- so the way I see it, I don't gotta do SWAY A Tribute To Michael Buble'- for Valentine's Day- now Mrs. Jeff Eats may see it totally differently, so like I just said, let's just keep this "story" between you and me.
Long story short,
SWAY A Tribute To Michael Buble' is a tremendous-show. The Seminole Casino Coconut Creek has planned a Valentine's Dinner featuring SWAY… The bet here, is that the "event" is gonna be off the chart!
So, if unlike Jeff Eats- you have to, or just want-to celebrate Valentine's Day "real special"- check out the info down below…you can check SWAY out at mooncoinproductions.com.
Once again, let's just keep this SWAY thing between you and me!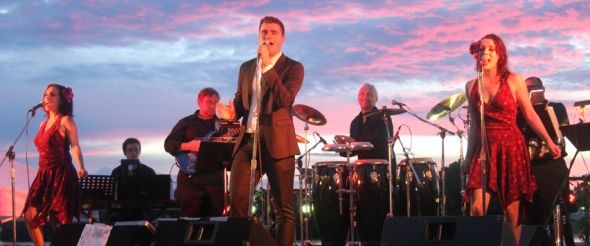 SEMINOLE CASINO COCONUT CREEK HOSTS A SPECIAL VALENTINE'S DAY DINNER & SHOW AT
NYY STEAK'S LEGENDS LOUNGE
Coconut Creek, FL (January 30, 2015)—Valentine's in the NYY Steak's Legends Lounge at the Seminole Casino Coconut Creek will feature a romantic prix fixe menu and a Michael Buble tribute featuring the band, Sway. NYY Steak and Sorrisi also have special menus for Valentine's Day.
Dinner in the Legends Lounge will begin with Kumamoto oysters served on the half shell with champagne vinegar mignonette. The second course is a salad with local heirloom tomato caprese, house made mozzarella, local heirloom tomato and aged balsamic reduction. The Entrée is a sixteen-ounce chateaubriand for two.
Dinner and the show in the Legends Lounge is $175 per couple and includes a bottle of Terra Valentine Cabernet Sauvignon. Seatings are available at 6:00 and 8:30 p.m. Tickets can be reserved by calling NYY Steak at 954.977.6700. NYY Steak's regular menu, food and wine specials will be available in the dining room.
NYY Steak is open Sunday through Thursday from 5 p.m. -10 p.m., Friday and Saturday from 5 p.m.-11 p.m. and Sunday for brunch from 10:30 a.m. – 2:30 p.m.