Eddie Hill's Sushi & Thai (Hallandale)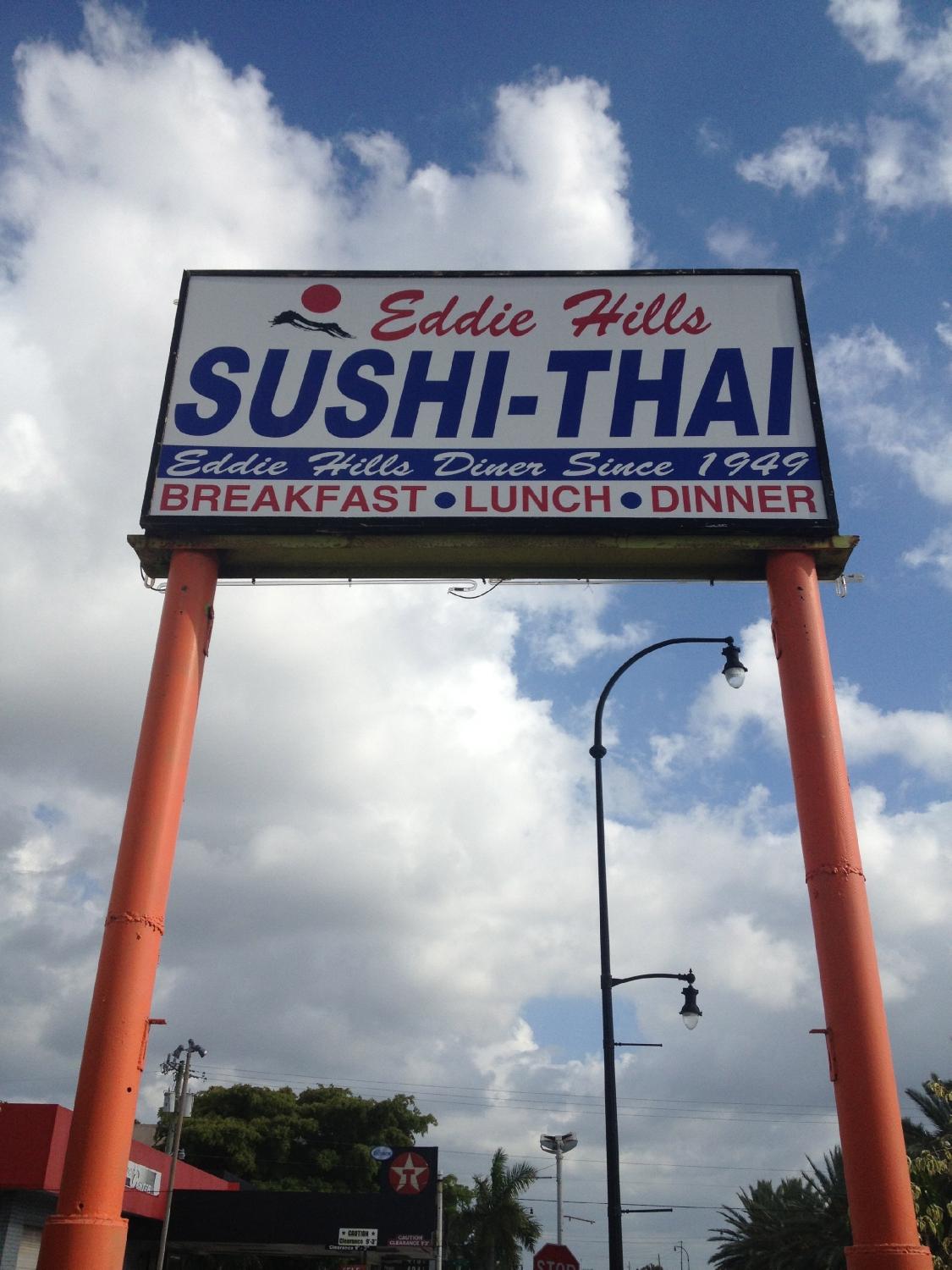 ***** Eddie Hill's Sushi & Thai, 134 North Federal Highway, Hallandale, Florida 33009, (954) 454-0023.
It was an American-Style diner from 1949 to 1999…new owner changed the joint into Japanese/Sushi/Thai joint.
Now that-that's out of the way…real good no-frills/super casual restaurant to catch-guess what at?-Japanese/Sushi/Thai stuff!
A recent dinner "outing" had Jeff Eats, Mrs. Jeff Eats and another couple-doing…chicken udon, teriyaki lobster, deep fried crispy boneless duck, massaman curry-shrimp, tempura seafood, satay chicken, pad kee mao-beef…Now, nothing for nothing, when Jeff Eats-eats in joints like Eddie Hill's Sushi & Thai…everything kinda tastes like Chinese food to me. So, straight up, I'm telling you that I'm- no expert-on Japanese/Sushi/Thai stuff…but, I do know when something tastes good-and everything that we ordered tasted real-good.
My money- says that most of you guys probably know more about Japanese/Sushi/Thai food than Jeff Eats does…so, I'm just calling it as I "tasted" it. For what it's worth, Mrs. Jeff Eats and our friends-also enjoyed the food…so you got four people who would definitely "come back."
While I'm on the subject of "food reviewing"…you guys gotta appreciate that growing up in Brooklyn in the 50's-60's Jeff Eats wasn't exactly exposed to a ton of Japanese or Thai kids-that said, in 6th grade at P.S. 179 I did sit next to a Jehovah's Witnesses' kid who shook the class-up when he wouldn't say The Pledge Of Allegiance…so I wasn't a totally sheltered kid!
Anyway,
You can check menu/prices/other info at eddiehills.com.
Eddie Hills is open Sunday-Thursday noon-10:30pm, Friday-Saturday noon-11:30pm.