Vinnie's Lobster Bar (Davie)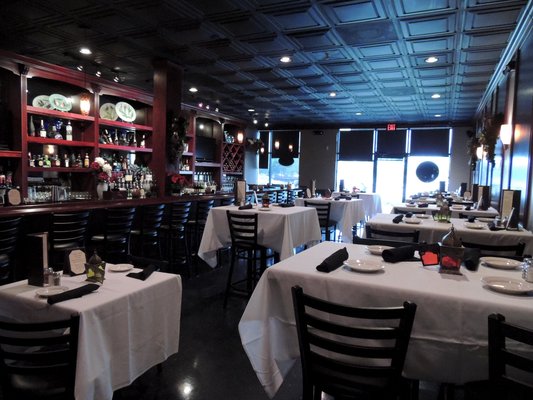 ***** Vinnie's Lobster Bar, 5810 South University Drive, Davie, Florida 33328, (954) 680-3323.
Got a real good- Seafood/Italian/American joint for you guys…Vinnie's Lobster Bar in Davie.
If you aren't a seafood "player"…don't be a-scared by Vinnie's Lobster Bar's name–for sure its got plenty of seafood stuff, but the joint has more Italian dishes-than what most Italian restauarnts serve up.
Down below, Jeff Eats has "reprinted" Vinnie's menu…small joint with inside and outside seating, full bar area…trust Jeff Eats, it looks kinda fancy, but looks are often deceiving-for crying out loud, the freaking joint is in a Target Shopping Center! Nothing for nothing, growing up in Brooklyn in the 50's-70's I was literally raised on joints that looked/tasted just like Vinnie's Lobster Bar…trust me there is a certain "hey I'm from da-neighborhood" vibe that makes these kinda joints real special! Of course back in Brooklyn, we didn't "do" outside-seating except in late Spring, Summer and early Fall. By the way, if you aren't following Jeff Eats' thought process on the neighborhood "vibe" thing, I just guess, maybe you-had-to-have-lived-it…to get it! But trust me, you-New Yorkers-will sense it right away!
Like I said a few seconds ago, the joint is real good…
The other night Jeff Eats and Mrs. Jeff Eats "did"…clams oreganato, garden house salad, lobster bisque, stuffed lobster tail with shrimp and scallops, chicken parmigiana- and everything was right on the money.
Jeff Eats highly recommends that you give Vinnie's Lobster Bar a shot…I think that you will really enjoy it!
The joint is open Monday-Saturday 11:30am-11pm, Sunday 3pm-11pm.
You can checkout menu/prices/other info at vinnieslobsterbarflorida.com.