Ringo Starr And His All Star Band (Sunrise Theatre For The Performing Arts- Fort Pierce)
* Ringo Star And His All Star Band.
The luckiest man in the world- puts on a real-solid show!
Ringo is scheduled for Wednesday Night, February 18th at 7pm…Sunrise Theatre For The Performing Arts.
Trust Jeff Eats…You'll enjoy "seeing" the luckiest man in the world-in action.
You can catch tickets at sunrisetheatre.com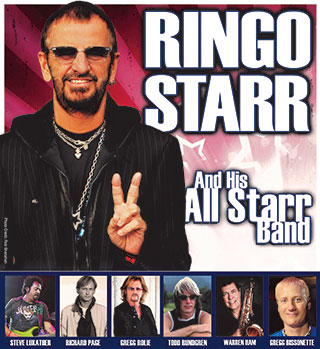 from sunrisetheatre.com
Ringo Starr and His All Starr Band of 25 years Steve Lukather, Richard Page, Gregg Rolie, Todd Rundgren, Gregg Bissonette and Warren Ham take the Sunrise Theatre stage for one night that you don't want to miss!
Since beginning his career with The Beatles in the 1960s, Ringo has been one of the world's brightest musical luminaries. He has enjoyed a successful, dynamic solo career as a singer, songwriter, drummer, collaborator, and actor. Drawing inspiration from classic blues, soul, country, honky-tonk and rock 'n' roll, he continues to play an important recording, touring, and unofficial mentoring role in modern music.
Ringo's music has always emanated from his warmth, humor, and exceptional skill, manifesting in the songs we know and love: With A Little Help From My Friends, Don't Pass Me By, Octopus' Garden Photograph, It Don't Come Easy, Back Off Boogaloo, You're Sixteen (You're Beautiful and You're Mine).
Peace and love are his life's rhythm and melody, and he propels this universal message in everything he does: his evocative artwork, his enthused live performances, his legendary songs, all imbued with the joy, reflection, and wisdom of the music icon the world knows and loves simply as 'Ringo.'
"Ultimately what's most impressive about Ringo Starr isn't what he's been, but rather who he is."
– Rolling Stone rock critic David Wild