Festival Flea Market Mall Coupon (Pompano Beach)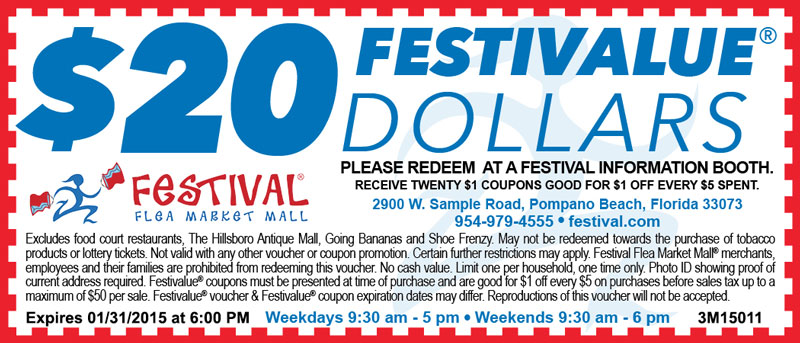 * Festival Flea Market Mall Coupon.
Mrs. Jeff Eats needs to buy some cologne-or something!
I printed this coupon out for her and here's one for you guys.
Such a deal!!! But you can't use-Festivalue Dollars in the food court…
Finally, did you ever wonder why they call these joints- flea markets?
___
funtrivia.com
The first theory, and the one most popular on the Internet, proposes that the term is a direct translation of the French Marché aux Puces, a large, outdoor bazaar in Paris. This original market earned its name from the critter-infested goods it was rumored to sell.
The second theory alleges that the term was coined at a time when the slums and alleys of Paris were demolished and replaced by new construction. The dealers in second-hand goods who lived and worked in these old neighborhoods were forced to flee. The merchants' new gathering place was referred to as the "flee market," which later became "flea market."
The final theory associates the term with New York City's 18th century Fly Market. Apparently, the Dutch name for the market was vlie, which means valley but is pronounced "flea."