7th ANNUAL STMC PIG OUT (Miami)
* 7TH ANNUAL STMC PIG OUT.
Jeff Eats' buddies over at Burger Beast (burgerbeast.com) assure me that the 7th Annual STMC Pig Out- is gonna be an awesome event.
Jeff Eats and Mrs. Jeff Eats are "game"- we'll be there-tomorrow…pigging out (pun intended)!
Printed down below is Burger Beasts' "pearls of wisdom" about Pig Out!
_____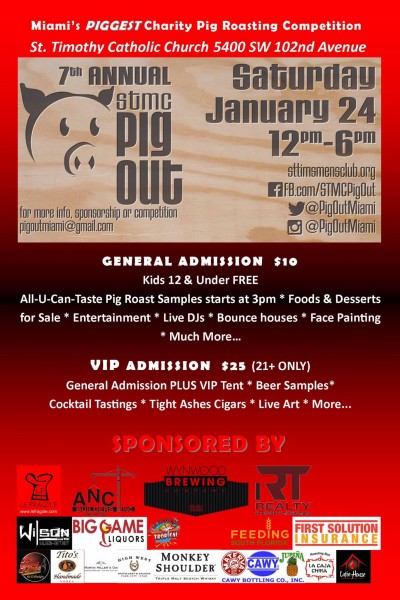 If you love Pig, Pork, Swine or any other synonym then I really think you'll be missing out if you don't hit up the 7th Annual STMC Pig Out Pig Roasting Competition.
Teams will compete to find Miami's Best Pig Roaster and you'll be able to sample them!
The General Admission ($10) will get you all you can shovel into your mouth samples from the roasters, DJs, some more entertainment plus Bounce Houses and Face Painting for the kids. And all 12 and under are FREE.
VIP ($25) includes everything from the GA plus admittance to the Big Game Liquors VIP Tent with Cocktails by FINKA Table & Tap, Beers from Wynwood Brewing Company, Tight Ashes Cigars and much more. It seems to me like this is the deal to get the full experience.
Proceeds to benefit Feeding South Florida (formerly Daily Bread Food Bank) and Local Catholic Charities that feed the homeless and hungry of our community.
This is very local and Miami only event. It's a must attend for you Miami homers out there. #localsrule
The Details:
7th Annual STMC Pig Out
When: Saturday January 24, 2015
Where: 5400 SW 102nd Ave (St. Timothy Catholic Church)
Time: 12-6PM