An Evening With Emil Stucchio & The Classics (Curtis Peterson Auditorium- Lecanto)
* An Evening With Emil Emil Stucchio & The Classics.
My good friend Lola-of Lola & The Saints is annoying the crap out of me!
Just got this e-mail from Lola…
Do Jeff Eats a huge favor and go see HER. Nothing for nothing, Emil Stucchio is one of the greatest doo-wop singers of all-time…Nothing for nothing, Lola & The Saints is one of the best doo-wop "acts" currently working the oldies-circuit! So, nothing for nothing…you'll have a great time, assuming you like doo wop!
By the way, if Lecanto isn't- your "neighborhood"- according to-Lola & The Saints' website (lolaandthesaints.com) Lola & The Saints is gonna be headlining:
Feb 15 SUNDAY WEST PORT HIGH SCHOOL
PERFORMING ARTS CENTER
3733 SOUTH WEST 80TH AVENUE
OCALA, FL 3448
SHOW TIME 3PM DOORS OPEN 2PM
Tickets $15.00 Call: 352-861-0252
or www.tlcocala.org
MARCH 7 SAT. LAUDERDALE WEST
1141 NW 85 Ave., Plantation, Fl 33322
For Tickets: 954-473-8219
Call mornings 9am – Noon
Call evenings 7pm – 9pm
$7.00pp SHOW TIME 8:00PM
OPEN TO THE PUBLIC
MARCH 8 SUN. KINGS POINT
7000 W. Atlantic Ave. Delray Beach, Fla 33446
Call for tickets Box Office 561-499-3335 ext 225
SHOWTIME 8:00PM
TICKETS ON SALE NOW
Thank you for your kind attention.
By the way, Jeff Eats and Mrs. Jeff Eats are looking forward to seeing Lola & The Saints at Kings Point on Sunday, March 8th!
_________________
Hi everyone,
This show is going to be a KNOCKOUT! Buy your tickets now.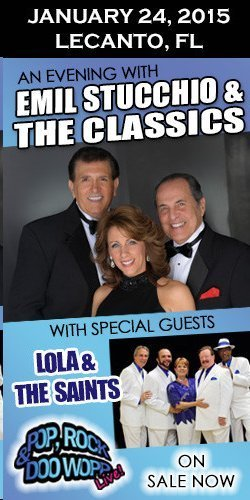 Send to all your friends and make this a night out you won't forget.
ps: LOLA & THE SAINTS will be debuting our new cd entitled
"AT LAST". You will absolutely enjoy the choices of songs
on this cd and the vocal harmonies will send you back to the
good ole' days.
HOPE TO SEE YOU THERE…
Curtis Peterson Auditorium
3810 West Educational Path
Lecanto , FL. 34461
For any printed promo, use the website www.poprockdoowopp.com
For a direct ticketing link (for e-mail and websites) use http://www.showclix.com/event/ClassicsLecanto
Phone number for tickets is 1-888-718-4253