Tribute Music & Food Truck Festival (Wellington Amphitheater- Wellington)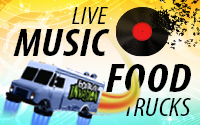 * Tribute Music & Food Truck Festival.
Now, it's not gonna be exactly like Woodstock-'69…but it's gonna be something real-good!
Tribute Music & Food Truck Festival at the Wellington Amphitheater… Thursday-Saturday, February 26-28, 2015, 5pm-9:30pm (Thursday), 5pm-10;30pm (Friday-Saturday).
First things first, the CONCERTS ARE FREE. Just bring yourself and if you'd like a lawn chair, blanket.
Second things second, this is a Family oriented event so kids are welcome.
Third things third, there will be loads of food trucks so nobody's gonna starve.
Fourth things fourth, unlike Woodstock '69 (which didn't start out free) this Festival is FREE. Jeff Eats knows that he already told you-that this "thing" is free- just wanted to see if you actually remember the stuff that I tell you! By the way, parking is also FREE.
Fifth things fifth, based on the tribute acts set to perform, Jeff Eats is willing to bet you a small order of French fries that the Amphitheater is going to be packed every night. Trust me when I tell you-that Satisfaction (Rolling Stones), Odyssey Road (Journey), The Long Run (The Eagles), The Blues Brothers Soul Patrol Band (The Blues Brothers), Young Elvis (Tom Jones, just fooling with ya!) are all Top-Shelf tribute artists. Jeff Eats has seen all of the acts- and every-one of them absolutely kills!
Jeff Eats and Mrs. Jeff's have all 3-dates penned in-our calendar book. All this "thing" needs is some nice weather- and it should be an absolute blast.
To wrap it up,
Printed below is a "story" that Jeff Eats did on the Wellington Amphitheater on 1/13/15…take a look at it. In addition to general info-you'll find listed- The Amphitheater's January-February, 2015…The Wellington Amphitheater does a great job on FREE EVENTS…the list will give you some idea as to what- it has cooking in the comimg weeks.
Hopefully, Jeff Eats will "catch" some of you guys at the Tribute Music & Food Truck Festival!
—–
January 13, 2015
* Wellington Amphitheater, 12100 Forest Hill Boulevard, Wellington, Florida 33414, (561) 791-4000.
Got a real heads-up for some of you guys, the Wellington Amphitheater which is located on Forest Hill Boulevard just west of 441 (State Road 7).
In a nutshell, on a weekly basis/in the evening- the Amphitheater- holds Free Family Oriented Events, such as Movies, Concerts and Food Truck "Invasions" …all you gotta do, is bring yourself and maybe a lawn chair, or blanket. Like I just said, the events are FREE and there is plenty of Free Parking.
Jeff Eats has seen a handful of some real good concerts there- and I gotta tell you- the combination of nice weather/food truck stuff/terrific music- in my book, really can't be beat!
Just a quick shout out to the Amphitheater's "booker"…"Your selection of "acts" is terrific."
Long story short, if this kinda stuff is of interest you, then you- gotta keep a close eye on wellintongovfl.com where you'll find schedules/other info.
In the meantime, to help you guys out…I've listed Wellington Amphitheater's January & February, 2015 schedule.