Footlighters Club All Star Tribute to Neil Sedaka-Entertainer of the Year (Seminole Hard Rock Hotel & Casino- Hollywood)
* Footlighters Club All Star Tribute to Neil Sedaka-Entertainer of the Year.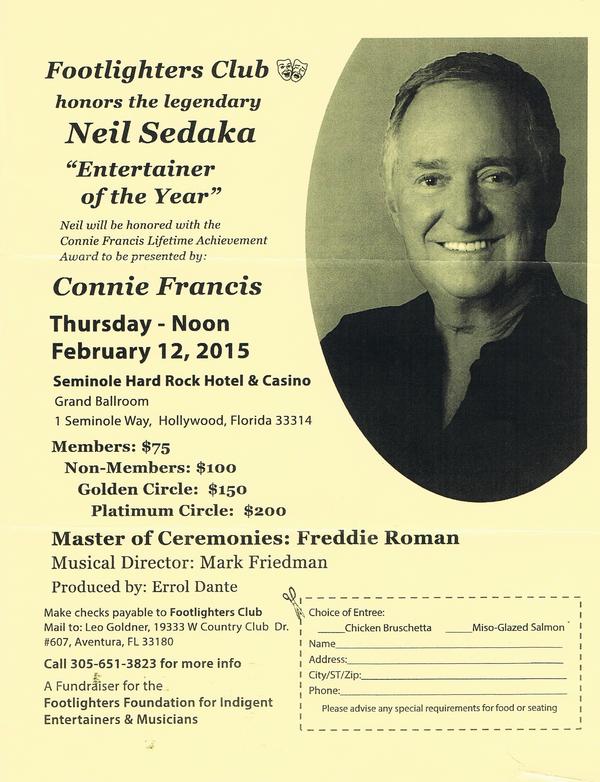 Jeff Eats has been "hearing" about the Footlighters Club for years…
I understand, that past Footlighters' "EVENTS" have been off the chart- amazing!
Now-I ask you, seriously, how can this luncheon not be a great event with the likes of…Neil Sedaka, Connie Francis, Freddie Roman, Dick Capri, Joni James, Rodi Alexander, Trini Lopez, Jay Black, Ann Anello, Pat Cooper, Ben E. King, Gianni Russo and The Platters all in attendance!
Trust Jeff Eats on this one, based on the "talent" involved- this Tribute to Neil Sedaka- is gonna play-at the same level as many of the awards shows- that you normally only get to watch on TV!!!
Jeff Eats and Mrs. Jeff Eats are gonna be at the Neil Sedaka Tribute-on Thursday, February 12, 2015.
A suggestion for you-guys out there…put the tee shirt/shorts/flip flops away for the afternoon- throw on a pair of pants, maybe even a sports jacket-and come have a great afternoon! As for you ladies, I know that you know what to wear, so Jeff Eats-got nothing to say!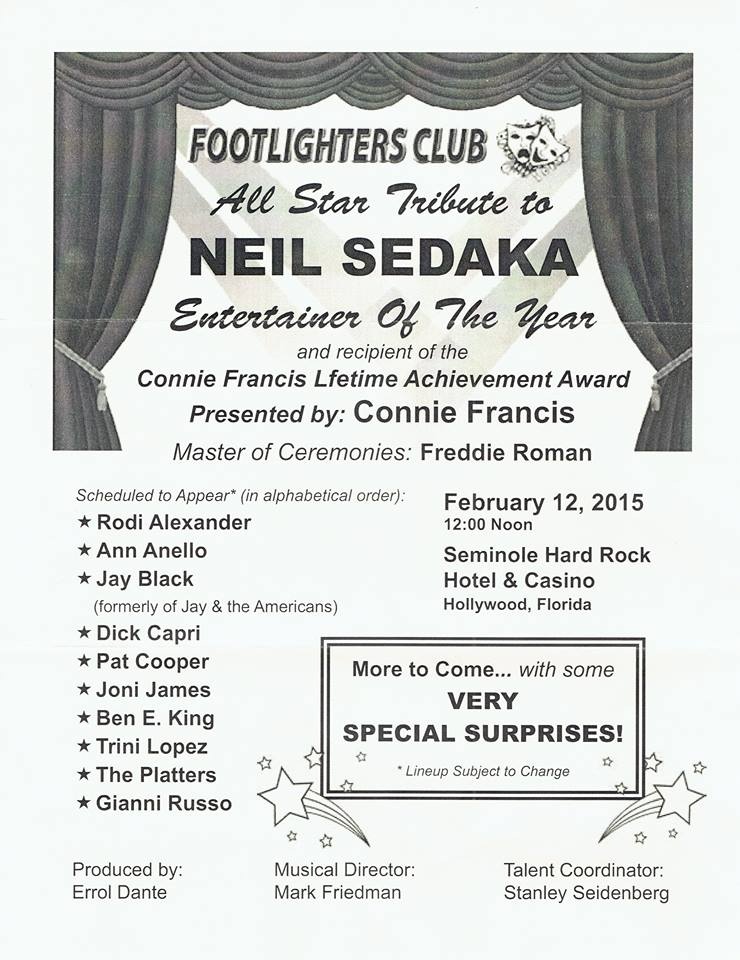 Taken from thefootlighters.com
Our History & What We Stand For
WHO ARE THE FOOTLIGHTERS? We are a social club held in high esteem among the business community and entertainment industry. Our club is proud to have honored such members as: Tony Bennett, Jack Carter, Sammy Davis, Jr., Maurice Chevalier, Pat Cooper, Norm Crosby, Redd Fox, Robert Goulet, Shecky Greene, Jackie Mason, Jerry Lewis, Tony Martin, Don Rickles, Sid Caesar, Frank Sinatra, Jerry Vale, Henny Youngman, and the list goes on. During the last 4 years, we have honored: Connie Francis, Sal Richards, Circuit Judge J. Cristol, and Ben E. King.
In 1956, two entertainers, Leon Fields and Hal Fisher created the Footlighters Club. Its purpose was to bring together entertainers, musicians and community business professionals for fun, friendship and fellowship. From the inception of this idea emanated a club of over 500 members worldwide. They represent every phase of show business and the private business sector.
In 1962, members Lou Marsh, Tony Adams and Tommy Dale created the FOOTLIGHTERS FOUNDATION. From 1971 to the present, the Footlighters Foundation has distributed over one million dollars to entertainers and musicians who were ill or in need of financial assistance. As a Footlighter, YOU would be part of a socially responsible organization that supports and assists indigent entertainers and musicians who have made your life happier and more enjoyable.
Through the Footlighters Fund established at Florida International University, we are proud to further our social responsibility by providing scholarships to students in music and theatre. These students are the future generation of musical artists and performers. We welcome the opportunity to share with these students what we have gained through our own experiences as performers.
The Footlighters are proud of the camaraderie we share. All of our members look forward to the events we plan, the shows we put on, the luncheons, picnics and the events for special occasions planned throughout the year.
NOW IS THE TIME TO JOIN THE FOOTLIGHTERS! To become part of this prestigious entertainment and theatrical organization, please print out our application. Mail it to the address indicated, along with a check for $100.00. Fifty dollars ($50.00) is for the initiation and Fifty dollars ($50.00) is for your yearly membership dues. After your first year, the dues will be $50.00 per year. Because our club is a theatrical organization, we will wave the $50.00 initiation fee for all entertainers and musicians who join. The membership entitles you to all the functions at membership discounts. You will also receive the monthly Footlighters Newsletter.