China Moon (Miami Beach)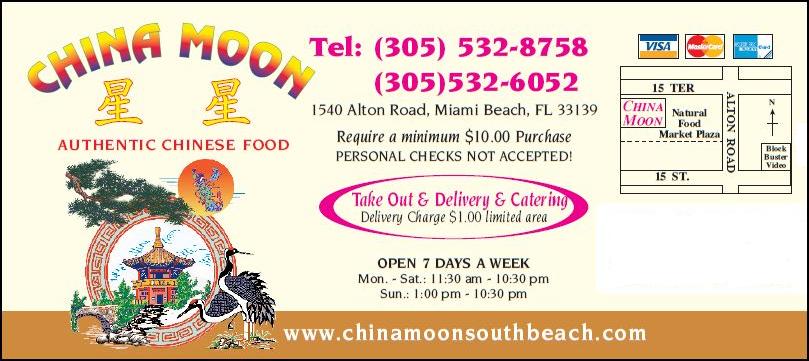 ***** China Moon, 1540 Alton Road, Miami Beach, Florida 33139, (305) 532-8758.
Real short story…
This past Sunday, Jeff Eats and Mrs. Jeff Eats were at some- friends' house watching some-football…we ordered some Chinese food from a takeout joint named China Moon…wonton soup, egg drop soup, egg rolls, bbq spare ribs, pan fried pork dumplings, roast pork fried rice, chicken lo mein, kung po shrimp, pepper steak with onions- everything was "decent enough."
Just so we are straight with each other, the food was fresh, hot, cooked- absolutely nothing wrong with it- but trust me, there has to better stuff in my friends' neighborhood.
You guys know that Jeff Eats' doesn't like pecking orders…but if I had to pick one "item" over the others-it would be the pan fried dumplings…you do know that in Jeff Eats' book it's kinda hard to make a bad-pan fried dumpling!
One other quick-take, the joint advertises "Authentic Chinese Food"…as in "Authentic American Chinese Food"- so if you do decide to do some ordering-don't be expecting to find fried jellyfish- so forth and so on…on China Moon's menu at chinamoonsouthbeach.com.
Anyway,
Jeff Eats calls them as I see them…
China Moon is open Monday-Saturday 11:30am-10:30pm, Sunday 1pm-10:30pm.