Truckin' For JARC (Olympic Heights High School- Boca Raton)
* Truckin' For JARC.
JARC is the Eats Family's- charity. No! We don't own it…it's just ours!
Jeff Eats can't begin to tell you-what a terrific and worthwhile organization JARC is…so do me a favor and take a look at JARC's- website jarcfl.org…it will give you some insight as to what it does and-as to how lucky us-folks without "disabilities" really are!
This Truckin' For JARC "thing" is a Free Admission Event…JARC gets a portion of all sales/revenue generated.
Jeff Eats and Mrs. Jeff Eats will be there!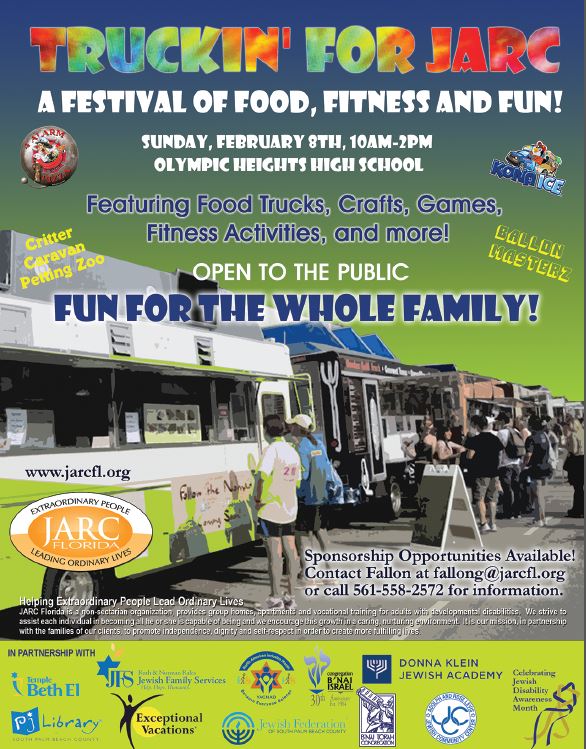 "Welcome to JARC! We are here to help you and the people with special needs in your life. We think of JARC as the central address for people seeking help with intellectual and developmental disabilities. We are located in Florida, but our clients come from all over the US.
At JARC, we specialize in helping extraordinary people lead ordinary lives. What does that mean? It means every child, every adult, should know the joy of friendship, the satisfaction of doing work that is valued, and the comfort of being a loved and important member of a community.
For us it starts with a simple philosophy: we carry a sense of responsibility to be the voice of people who don't have a voice that is heard, to be the advocate for people who are unable to advocate for themselves. Our goal is not only to be voices and advocates, but more importantly, to assist our clients in using their collective voices and becoming their own advocates.
Our programs include residential homes and apartments, community case management, and employment training. Through everything we do, we are developing life skills and growing friendships. Some of our clients live in our residential network, others live in private residences where we provide support services. Still others come to daily programs and live near our center in Boca Raton, Florida.
You don't have to do this on your own. At JARC we understand families and how to help the extraordinary people who come under our care. Please call us."