Bagel Works Restaurant & Deli (Boca Raton)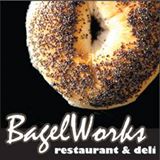 ***** Bagel Works Restaurant & Deli.
Recent e-mail from reader Marlene J.
Jeff,
Not to put you on the spot, but what's the best bagel joint in Boca?
I've eaten in loads of them and just curious where your head is on this one.
Thanks
—-
Marlene J:
If we are talking the sum of all-of-the parts-you may want to checkout Bagel Works.
Posted below is Jeff Eats' 12/11/06 "review"…by the way, the joint "now" has bacon.
Just between you and me, there are some Boca Raton joints-with better pumpernickel bagels, better everything bagels, better bialys, better egg salad, so on and so forth…but, if we are talking "over-all" bagel joints, Bagel Works is right up there with the best of breed. For what it's worth, over the years-Jeff Eats has eaten at/taken out from Bagel Works numerous times and I can't remember a single bad outing. One other thing, for what it's worth- I've never heard anything but rave reviews about Bagel Works' tuna fish salad.
Hope this helps.
Thanks for reading…
______
Posted on December 11th, 2006 · American Boca Raton Breakfast Delicatessen
***** Bagel Works
8177 Glades Road
Boca Raton, Florida 33434
(561) 852-8992
If you want bacon with your eggs, or bacon with your cheeseburger, or a BLT, then you "can't" eat at Bagel Works. Bagel Works is a bagel-joint. Bagel Works is not a kosher-bagel-joint. I will leave it to you, to ask the owner or the "powers that be" when you are there, as to why: Bacon is not served? By the way, I know Bagel Work's reason, but I ain't telling.
Bagel Works has been serving some of the best New York Style Deli "stuff" in South Florida for over 15 years. This joint is open 7 days a week for breakfast & lunch, 6:30am-4pm. Bagel Works' eat-at-counter and tables are always jammed and its take-out /appetizing counter always has a line.
Try this joint, it is a winner. By the way, don't forget to ask about the "bacon."