Lisa Lampanelli (Palm Beach IMPROV- West Palm Beach)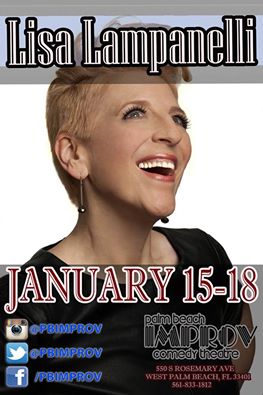 * Lisa Lampanelli.
Below is a reprint of  a "story" Jeff Eats ran on Lisa Lampanelli on 10/9/2014.
I am telling you …go see her!
Lampanelli is at the Palm Beach IMPROV- January 15th-18th…
—–
October 9, 2014
* Lisa Lampanelli.
Jeff Eats has seen her…she is amazingly funny.
I don't know about you, but I think that everybody's- Comedy Bucket List- must include seeing Lisa Lampanelli-at least 1-time LIVE!
She is as blue as blue can be. Like I said 2-seconds ago, amazingly funny.
For those of you not into "blue"–look at Lampanelli this way…since this is a Bucket List-you'll probably only have time to sit through her show once, anyway!
Here's the skinny…
Lisa Lampanelli
Ticket Price: $35.00
Purchase Tickets Online: palmbeachimprov.com.
Show Type: Stand Up
Tags: Stand Up Comedy, Mainstream
Restrictions: 18 & over
Two drink minimum
All showtimes are subject to change
Select Show: Select Thu, January 15, 2015 8:00 PM Fri, January 16, 2015 8:00 PM Fri, January 16, 2015 10:30 PM Sat, January 17, 2015 7:00 PM Sat, January 17, 2015 9:45 PM Sun, January 18, 2015 7:00 PM
Lisa Lampanelli:
Lisa Lampanelli is Comedy's Lovable Queen of Mean. Heralded as "more than a standup — a standout," by comedy legend Jim Carrey, Lampanelli is a cross between Don Rickles, Archie Bunker, and a vial of estrogen. She even won accolades from The King of All Media Howard Stern, who called her "a true original and a brilliant comedy mind who'll steal the show every time." This equal opportunity offender is a regular on "The Tonight Show with Jay Leno" and Howard Stern's Sirius satellite radio shows. She recently joined the ranks of comic greats and added her first ever one-hour HBO comedy special, "Long Live the Queen," to her resume, with a CD and DVD of the special to follow. In addition, her first book, "Chocolate, Please: My Adventures in Food, Fat and Freaks," will hit bookstore shelves on September 15, 2009. Lisa's rise to the top of the comedy food chain began in 2002 when she was the only female comedian invited to skewer Chevy Chase on the NY Friars Club Roast on Comedy Central. She soon became one of the few white comedians to perform on BET's "Comic View," cementing her huge crossover appeal. A year later, she rocked Comedy Central once again in her back-to-back appearances on "Premium Blend" and on the enormously rated "Roast of Jeff Foxworthy" — again, the only female invited to roast the man of honor. Lisa appeared on Comedy Central's "Last Laugh 2005″ and her headlining performances on the Comedy Central roasts of Pamela Anderson and William Shatner, among others, received national attention. Lisa's 2005 one-hour special, "Take It Like a Man," was a hit with the comedy network yet again, and the CD and the DVD of the same name hit #6 on the comedy charts. Then, in January 2007, Lisa's second one-hour special, "Dirty Girl," debuted on Comedy Central and Warner Bros. Records, and reached #4 on the charts. Soon thereafter, "Dirty Girl" was nominated for a Grammy Award for 2007's Best Comedy Album of the Year. Lisa has also taped several specials for VH1, MTV, and CMT, and was featured on the "Best of" episode of Comedy Central's "Tough Crowd with Colin Quinn." Known for saying things that most people are afraid to think, Lisa Lampanelli's raunchy, gut-busting performances are wildly popular at theaters across the U.S. and Canada. Lisa appeared in "Larry the Cable Guy: Health Inspector" and had a featured role in "Delta Farce," opposite Bill Engvall, Larry the Cable Guy, and D.J. Quall. She also starred in the feature film, "The Aristocrats" and, most recently, played a more maternal version of herself in the Owen Wilson vehicle, "Drillbit Taylor." She is currently developing a pilot for a weekly series on HBO with executive producers Jim Carrey and Kario Salem.