The Wise Guys of Comedy (Meatball Room-Boca Raton)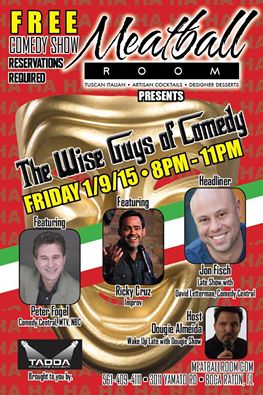 * The Wise Guys of Comedy.
You know and Jeff Eats knows, that Meatball Room's game is to get you to eat & drink…with that in mind, the joint has a real good- "FREE" comedy show set for Friday Night, January 9, 2015 at 8pm…so do the right thing!
How do I know that the show is gonna be "real good"?…
Jeff Eats has seen all 3-comedians and they are all-strong…
To give you some idea as to what to expect…Jeff Eats dug-up a 9/15/12 "story" I did on comedian Peter J. Fogel who is on the bill…
***** PETER J. FOGEL *****
Last night Mrs. Jeff Eats and I saw the "Coco Burlesque Cabaret Show" at The Pavilion located in the Seminole Coconut Creek Casino in Coconut Creek (www.seminolecoconutcreekcasino.com)…it's a terrific variety show priced at 25 bucks and currently "plays" Friday nights at 9pm.
The shows' "master of ceremonies" is Delray resident—Peter J. Fogel who has to be one of the funniest comics that Jeff Eats and Mrs. Jeff Eats have seen in a very-very long time. Last night Fogel's "clean" act had the crowd of 1,250 literally in stitches and screaming for more.
I've found in life, that many times, some of the best things are right in your own backyard. Over the past 5 years or so, Jeff Eats has seen Fogel live-something like 7 times in local South Florida comedy clubs (such as the New York Comedy Club in Deerfield Beach)…I've also seen him a number of times on local South Florida television programs.
The interesting thing about Fogel, every-time I've caught him he has had new material—and the "old stuff" is so funny that I often find myself wiping tears from my eyes even though I already know the punchlines…this guy cracks me up.
Trust me on this one, Peter J. Fogel is good–real good.
Here are two suggestions for you guys…
Catch Fogel in the Coco Burlesque Cabaret Show–or catch his "full" 45-60 minute set at a local comedy club. In any event- if you like to laugh—make it your business to see Peter J. Fogel.
Fogel's website is www.peterfogel.com.