Rolling Stones Tribute The U.S. Stones Play The Hits Live (Jazziz Nightlife- Boca Raton)
* Rolling Stones Tribute The U.S. Stones Play The Hits Live.
This is a personal note to the folks- who own Jazziz Nightlife (jazziz.com) in Boca Raton…
This morning…
Jeff Eats "got" the below goldstar.com offer- for The U.S. Stones' Sunday- January 18, 2015 at 7:30pm appearance.
Seriously…
Do you guys honestly believe- that the "demand" to see Florida based TRIBUTE BAND-The U.S. Stones is so huge- that you can charge 50 bucks or even 25 bucks a head? If you do, Jeff Eats got a Bridge in Brooklyn that I'd like to sell you!- I'll bet you a buck, that you ain't gonna be happy campers with the "paying" turnout on this event.
Like I said 2.1 seconds ago, The U.S. Stones- is a TRIBUTE BAND- better you should have "them" for FREE and make your money at the bar…or maybe charge "something to get in" and throw a couple of drinks or some type of food-into the mix!
Just for the record, Jeff Eats isn't picking on The U.S. Stones- they are a good act, the picking is directed at Jazziz Nightlife for trying to make something- out of basically nothing!
Look!
Jeff Eats knows that your Mizner Park location- means a killer overhead- but trust me, bringing in tribute acts like this and TRYING TO CHARGE THE NUMBERS ADVERTISED tells me that Jazziz's future_______________ (I'll let you guys fill in the blanks).
*****
 JAZZIZ Nightlife, (201 Plaza Real Boca Raton, FL 33432)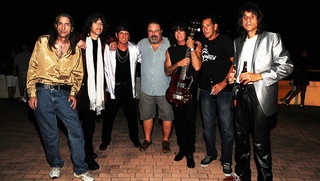 Full Price
$50.00
Our Price
$25.00*
Buy Now
goldstar.com
You can't always get what you want, but if you're looking for a show that recreates the high-energy fun of a vintage Rolling Stones concert, tribute band The U.S. Stones is ready to bring their best Jagger moves and Keef guitar licks to JAZZIZ Nightlife in Miami. The U.S. Stones is an electrifying eight-piece band boasting a young, in-his-prime Mick Jagger and a Ronnie Wood double that promises to get you on your feet. Hit after Rolling Stones hit, the group will bring the greatest rock 'n' roll band of all time to life on stage, complete with all the dance moves, authentic equipment and outfits. The U.S. Stones have played large festivals and great venues from New York to Florida, and know how to start up a crowd and leave Stones fans smiling in satisfaction.
* Additional fees apply.