Elvis Presley's Jets For Sale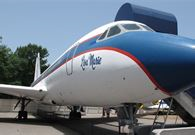 * Elvis Presley's Jets For Sale.
Jeff Eats just read the below-story on dailyfinance.com.
Nothing for nothing, Jeff Eats is "still" a big-fan…but don't you think that THIS is really-pissing money away?
I could-see maybe springing for a guitar, or maybe a cape, or maybe even a jumpsuit or two…but this!
Thank you very much.
*****
Got Lots of Money, Honey? You Can Buy Elvis' Jets.
Elvis Presley's pair of personal jets, one complete with gilded wash basin and plush sleeping quarters, will go under the hammer in a sealed-bid auction, Julien's Auctions, of Beverly Hills, California, said on Friday.
Jets "Lisa Marie" and "Hound Dog II" that the late King of Rock and Roll designed himself will be offered together to bidders and are expected to fetch between $10 million and $15 million. They are no longer airworthy, but have been on view for visitors at Graceland — Presley's Memphis, Tennessee, estate — for the past three decades. Presley bought the Convair 880 jet from Delta Air Lines in 1975, two years before his death at age 42, for $250,000. He named it "Lisa Marie" after his daughter. Presley spent more than $300,000 refurbishing the jet with a penthouse bedroom, executive conference room, bar and videotape system linked to four TVs. He had the plane painted red, white and blue with his motto "TCB" — "Takin' Care of Business" — on the tail.
He purchased the eight-to-10 passenger "Hound Dog II," a Lockheed Jetstar, also in 1975 for about $900,000 while waiting on the refurbishment of the "Lisa Marie." The four-engine 28-passenger Convair could fly Presley, who preferred to travel at night, up to 3,000 miles. Only 65 of the Convair 880 model jets were produced from 1959 to 1962.
The buyer also has the option to purchase several acres adjacent to Graceland to display the jets, independent of the Presley museum. An agreement between Graceland and the jets' current owners, whose identity wasn't disclosed, is set to expire at the end of April.