Paula Poundstone (Orlando, Clearwater, Fort Myers, Coral Springs)
* Paula Poundstone.
Comedian-Paula Poundstone seemingly has been around forever..
Jeff Eats has seen her a number of time-and I think that she's absolutely brilliant. I also think that when she isn't on stage- she's living as Bruce Jenner!
Poundstone has 4-Florida appearances coming up…2/6/15 Orlando (Plaza Live), 2/7/15 Clearwater (Ruth Eckerd Hall), 2/20/15 Fort Myers (Barbara B. Mann Performing Arts Hall) and 2/21/15 Coral Springs (Coral Springs Center for the Performing Arts).
Jeff Eats and Mrs. Jeff Eats are planning on catching Paula Poundstone in Coral Springs.
Tickets for all of the listed venues…paulapoundstone.com. Also check goldstar.com for discount tickets.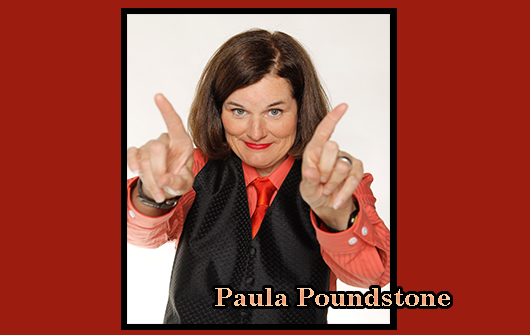 Paula Poundstone
Poundstone began nurturing her stand-up comedy talent in 1979 on the Boston comedy scene before moving to San Francisco. By 1990 she had moved to Los Angeles, starred in multiple HBO comedy specials and appeared on "Saturday Night Live." Poundstone was the first woman to receive a Cable ACE Award for a comedy special for her one-hour HBO special "Cats, Cops, and Stuff." She received her second Cable ACE Award for her self-titled HBO talk show series.
Continuing with many successes throughout the 1990s, Poundstone starred in "The Paula Poundstone Show" on ABC, appeared in her second one-hour special on HBO titled "Paula Poundstone Goes to Harvard," and appeared on camera and as the voice of characters in several television shows including: "Cybill," "Science Court," "Hercules" and "Home Movies." In 2007, she appeared in a BRAVO comedy special, "Paula Poundstone: Look What the Cat Dragged In." Poundstone is the recipient of an Emmy® Award for her field pieces on the PBS program "Life & Times" and most recently appeared in the television documentary "Why We Laugh: Funny Women."
Poundstone is a regular panelist on NPR's weekly quiz program "Wait Wait…Don't Tell Me," where her impeccable timing is key to the show's format. She has written several magazine articles, including five years of writing the back page column in "Mother Jones," and has authored multiple books, including "There's Nothing In This Book That I Meant To