2nd Ave Deli (NYC)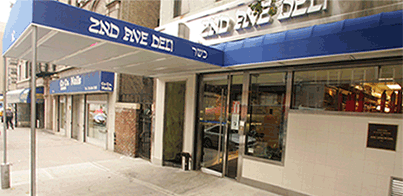 * 2nd Avenue Deli, 162 East 33rd Street, New York, New York 10016, (212) 689-9000.
Son Jeff Eats just told Jeff Eats a story…
About a month ago on a real cold night, Son Jeff Eats had just picked up a to-go-order… pastrami on rye ($18.50)-chopped liver on rye ($14.95)-order of French fries ($5.95) from the legendary 2nd Ave Deli in NYC. As he left the restaurant, a homeless-man walked up to him looking- for spare change…Son Jeff Eats in reply, said- " Here take this bag, its got French fries and a couple of sandwiches"…the homeless man asked "What kind of sandwiches" and Son Jeff Eats replied, "pastrami and chopped liver"…The homeless man said- "I don't want them, I got to watch my cholesterol" and walked away.
You can check 2nd Ave Deli's menu at secondavedeli.com.