Augy's Pizza Restaurant (Boca Raton)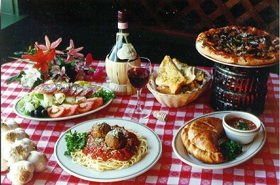 ***** Augy's Pizza Restaurant.
Augy's Pizza Restaurant…another Jeff Eats' "out of sight, out of mind" joint.
Just that simple, Jeff Eats very rarely travels on Boca Raton Boulevard.
Long story short, ate at Augy's last night and the food was absolute dynamite.
Reprinted below is Jeff Eats' 1/7/10 essay on Augy's Pizza Restaurant.
If you're looking for delicious reasonably priced mom & pop red sauce stuff, tons of garlic rolls, Coca Cola refills up the wazoo, delightful waitresses-counter folks and owners- then Augy's is definitely for you!
You can check menu/prices at Augys.com.
*****
Augy's Pizza Restaurant (Boca Raton)
Posted on January 7th, 2010 · Boca Raton Italian Pizza
***** Augy's Pizza Restaurant, 1501 Northwest Boca Raton Boulevard, Boca Raton, Florida 33432 (561) 368-1330.
Do me a big a big favor and check my Augy's Pizza Restaurant review which I did back on July 23, 2008…it will save me from doing some typing here.
Augy's is a "mom & pop" red sauce Italian joint…it has been around for something like 1,000 years.
That 2008 review told you…that a few years ago the "original" owners sold the joint to new guys, blah blah, blah…
Anyway…to make a long story–short…the old owners are BACK running the joint. During the past 4 weeks, I have eaten in Augy's three times and the food has been outrageously good—in fact, better than ever. Some of the dishes that I have "sampled"… chicken marsala, bone in chicken cacciatore, pizza, veal parmigiana, bone in chicken scarpiello, shrimp scampi, garlic bread (not garlic knots), minestrone soup…and I must tell you, Augy's is right up there with the best mama-poppa Italian joints in South Florida. By the way, they currently have a $20 dinner special…soup or salad, appetizer, entree, pasta side, dessert. They also have a Monday-Friday lunch buffet of pizzas–subs-salads for something like 5 bucks.
If you haven't eaten in Augy's…you gotta give it a shot. Nothing fancy here…but I am telling you– big portions, reasonable prices and the food is delicious.
Augy's is open 7 days a week for lunch and dinner.