NYY STEAK HOSTS THE AL CAPONE TEMPLETON RYE WHISKEY DINNER (Coconut Creek)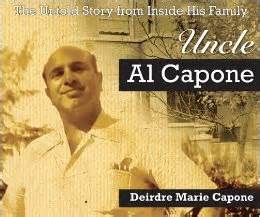 * NYY STEAK HOSTS THE AL CAPONE TEMPLETON RYE WHISKEY DINNER.
Got something a little different for you guys, a dinner with Al Capone's grand-niece Deirdre Capone- on Saturday Night, January 17, 2015 at 7pm…at NYY Steak located at the Seminole Coconut Creek Casino in Coconut Creek (with a name like that where else would it be?).
The press-release with "dinner" details is printed below.
First things first…the food/service at NYY Steak is terrific (2/15/12 review reprinted down below). Just a quick update on NYY Steak- Jeff Eats, Mrs. Jeff Eats, Son Jeff Eats, Daughter Jeff Eats and Boy-Friend of Daughter Jeff Eats ate at NYY 2-weeks ago. The food was dynamite, the service was dynamite and all-in the bill was $480…doing the math, that's 96 bucks a-head. No fooling around here, NYY Steak is right up there with the best ofSouth Florida' steak restaurants.. By the way, I don't recall what everybody ate, but I had a 26oz.bone in ribeye that was off-the chart.
Now, back to Deirdee's dinner…
For the $125 ticket, you get a ton of food and booze, an autographed copy of Deirdre's book "Uncle Al Capone" and a chance to "chat" about one of the most famous gangsters in American history. By the way, Jeff Eats read a ton of stuff/reviews on "Uncle Al Capone" and it seems that Deirdee or should I call her Ms. Capone- wrote a really good-interesting book.
Anyway, my pencil to-napkin calculations tell me-that for a buck and a quarter-you aren't getting ripped off. Really don't have time to go into the exact figures, but the menu/booze/book combination (taking Amazon's discounts/shipping etc. all into consideration)-adds up to a fairly priced-outing.
Like I said at the start of this essay, something a little different for you.
The bet here, is that a whole lot more people than you would have thought… are gonna show-up to celebrate what would have been Al's 116th birthday!
*****
December 16, 2014
Deirdre Capone, author of the book, Uncle Al Capone, the only remaining Capone family member with first-hand knowledge of the family's legacy, will host a birthday dinner celebration on January 17th at NYY Steak. The four course dinner will feature Capone's favorite whisky, Templeton Rye, which he called, "The Good Stuff." Guests will receive a copy of Deirdre Capone's book.
NYY STEAK HOSTS THE AL CAPONE TEMPLETON RYE WHISKEY DINNER
Coconut Creek, Fla. (December 16, 2014)- NYY Steak and the Seminole Casino Coconut Creek are celebrating Al Capone's birthday on Jan. 17 at 7 p.m. with a four-course dinner paired with wine and Capone's favorite whiskey, Templeton Rye, which he called, "The Good Stuff. " Limited seating tickets are available for $125.
Deirdre Capone, the only remaining Capone family member with first-hand knowledge of the family's legacy, will host the dinner. All guests receive a signed copy of Deirdre's book, Uncle Al Capone.
Guests will start the dinner with NYY Steak crab cakes paired with Conundrum White 2012 from Rutherford, CA followed by a baby green salad. The main course is a bone-in filet Oscar topped with Alaskan king crab and paired with Midwest Manhattan. Dessert includes a NYY Steak chocolate trio paired with JUSTIN Obtuse 2011 from Paso Robles, CA.
The event also includes a pre-dinner cocktail reception featuring a Chicago Typewriter cocktail, and an after dinner birthday cake celebration at The Legends Lounge with live swing jazz music.
Space is limited. To reserve your tickets, call NYY Steak at (954) 935-6699.
*****
February 15, 2012
***** NYY Steak, Seminole Casino 5550 Northwest 40th Street, Coconut Creek, Florida 33073.
Go figure!
One of the best-"upscale steakhouses" in South Florida is located at the Seminole Casino in Coconut Creek…That's right, the casino where you-gotta wear an oxygen mask because the cigarette smoke is so brutal—as part of a recently completed $150,000,000 renovation/expansion has opened an absolutely georgeous looking steakhouse with fabulous food and service. You can check www.seminolecoconutcreekcasino.com for menu/prices/photos. By the way, NYY is a joint venture–Seminole Indians/New York Yankees (there is another NYY at Yankee Stadium).
NYY…New York Yankees, get it? All kinds, of New York Yankee black/white photos, autographs…no dark wood–or dim lights here…but rather, a great looking open kitchen, light oak woods, bright lights, plenty of glass. Like I said before, an absolutely gorgeous looking joint.
When you check NYY's menu, try not to get sticker-shock…no question about it- that $51.75 24oz bone in ribeye is "high" even for an upscale steakhouse–Now, I maybe going out on a limb here, but I think- that casino-joints like NYY get a ton of customers using their casino "PLAYER'S CLUB" rewards/points to pay the bill. If I'm right—the restaurant can charge more than what most folks would consider "normal"- because many customers aren't using real-money. So, if you go there, I think you will find that many of the "diners" are eating on-the-arm.
At this juncture of the discussion, let me tell you that NYY looks totally out of place at the Seminole Casino. Nothing for nothing, but the Seminole Casino isn't in this boy's opinion–an upscale looking property. Now, there may-be something more developing at the Seminole Casino that's gonna get it looking more like the Hard Rock operation in Hollywood-so NYY may eventually make sense, but for right now, NYY looks like a fish out of water. Personally, I don't see non-casino players making special plans/reservations to eat at NYY, despite the fact that its food is absolutely dynamite.
A recent dinner had me "doing" the aforementioned 24oz ribeye, 28oz porterhouse ($54.75), veal chop milanase ($44.50), roast chicken ($28.50), lemon pepper halibut ($31.50), steak fries ($9.50), lobster mac & cheese ($11). Every item was delicious. On the service front, excellent without the "snotty" know-it-all attitude you find at many upscale steakhouses.
There are two ways to play NYY Steak. You can gamble your heart out…and accumulate points to spend or you can just fork over cash or your credit card at the end of the meal.
NYY Steak is a homerun…pun intended!
NYY Steak is open Monday, Thursday-Sunday 5pm-11pm. The joint is closed on Tuesday and Wednesday.