2 Chef's Souparee (Lake Worth)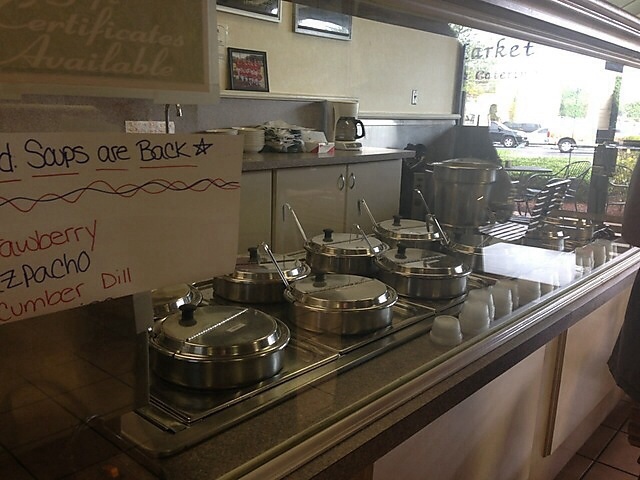 ***** 2 Chef's Souparee, 6338 Lantana Road, Lake Worth, Florida 33463, (561) 432-2477.
Just got this email from reader Norman D.
Jeff,
Just finished reading your review of the show 'When You're In Love The Whole World is Jewish.' Sounds like a cute show.
I love Jason Alexander. His George on Seinfeld was classic. I note your 'No Soup For You' reference, that Soup Nazi character on Seinfeld was also classic. Just wondering with all of this recent cold weather, as to whether or not you got a good place for takeout soups?
*****
Norman D:
Not exactly sure as to where you live-here in sunny freezing cold South Florida…that said, the soups at 2 Chef's Souparee in Lake Worth are off the chart. Jeff Eats loves this joint's stuff.
Just an observation, every restaurant I know that has soup, can make it to go…based on your Seinfeld references I'm thinking that 2 Chef's is more in-line with what you are looking for.
By the way, the guy who owns 2 Chef's is a whole lot nicer than the Soup Nazi- so don't be a-scared to ask for a few taste- samples!
Printed below is Jeff Eats' 7/16/11 review…
***** 2 Chef's Souparee, 6338 Lantana Road, Lake Worth, Florida 33463, (561) 432-2477.
I know that it's something like 103-out there…but you absolutely-positively gotta try 2 Chef's Souparee that makes some of the most amazingly delicious- soups, salads, sandwiches, dinner entrees and desserts that you have ever tasted. 2 Chef's is basically a takeout, but it does have indoor seating for about 16…order at/pickup at counter.
2 Chef's menu has 17 soups, 4 dinner salads, 8 sandwiches, 6 dinner entrees, 6 desserts. From what I can tell, only the breads and rolls are not home-made.
I recently tried mushroom barley soup (bowl-$4.90), french onion soup (bowl-$4.90), chicken pot pie soup (bowl-$5.90), new England clam chowder (bowl-$5.90). Let me state unequivocally that all of the soups—were outstanding. On the sandwich front, chicken salad and tuna salad ($6.90) were dynamite…same for the sirlon patty melt ($6.90). Dinner entrees "sampled" ($11.90–come with bread. soup or salad, potato or pasta) "sampled"… meatloaf–chicken parmigiana–1/2 roast chicken…All were delicious.
On the dessert front- the chocolate cake and peanut-butter chocolate cake—were definitely worth the calories
Every so often old Jeff Eats "stumbles" upon a homerun. 2 Chef's Souparee is a grand-slam!
2 Chef's is open Monday-Saturday 10am-9pm. The joint is closed on Sunday.
One final piece of business, if "discount coupons" are your game…www.southfloridadines.com has a $7.50 gets you $15.00 deal going.