When You're In Love The Whole World Is Jewish (Mizner Park Cultural Center- Boca Raton)
* When You're In Love the Whole World Is Jewish.
Last night Jeff Eats and Mrs. Jeff Eats "attended" the SRO opening of- When You're In Love The Whole World Is Jewish the music/comedy revue directed by Seinfeld's Jason Alexander at the Mizner Park Cultural Center…I know, fancy shmancy…Now, I'm no Clive Barnes, but I gotta tell you that the cast of 6 -backed by a 4-piece "orchestra" through a series of sketches, had the crowd in stitches for 90 solid minutes. For sure, I had heard a number of the "punchlines" before- as the revue features some of the greatest Jewish comedy bits-of all time…but I still cracked-up as the actors' accents and mannerisms turned-great "jokes and bits" into living color.
As you can see from the above, Jeff Eats is no- Clive Barnes, so I'm gonna quit while I'm ahead…
All I can tell you, is that if you are Jewish or even if your're not…you gotta go see this show!
Finally, for those of you who might care, George, I mean Jason was there…and after the show-graciously fielded tons of "No Soup For You" questions, photo/autograph requests…Jeff Eats can't resist- the man is a real mensch!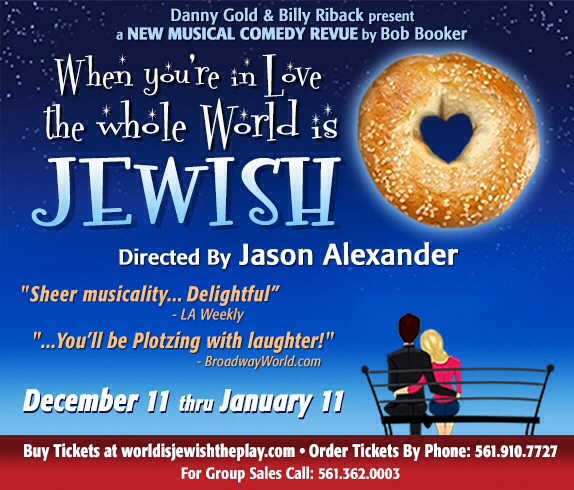 When a young Jewish boy decides he wants to marry his very gentile girlfriend, who knows nothing about Jewish customs or culture, he seeks the help of his Rabbi. The learned man then acts as a guide, taking the couple on a ride through the Jewish way of life, as a way of educating the young girl. This laugh-filled journey, incorporating twenty-five legendary comedy sketches and songs, covers every facet of Jewish life, from business and travel, to marriage and family, and is sure to appeal to all, because as the title of the show says, "When You're In Love, The Whole World Is Jewish."