Seems A Bit Pricey To Me!
* Seems A Bit Pricey To Me!
Jeff Eats (as- per my 9/18/10 review re-printed below) is a fan of Racks Downtown Eatery & Tavern in Boca Raton.
That said, it just seems to me that $110 plus tax, plus tip- is a bit steep for this "party."
I don't know about you guys, but long-ago Jeff Eats- got tired of "New Years Eve" RESTAURANT PARTIES…and their gouging-prices!
Now I ask you, why couldn't Racks just have its regular menu available and throw-in- a DJ for those looking to party?
By the way, I singled- Racks out in this "story"- but there are tons and I do means tons of other joints doing-the exact "same" type of parties in their joints.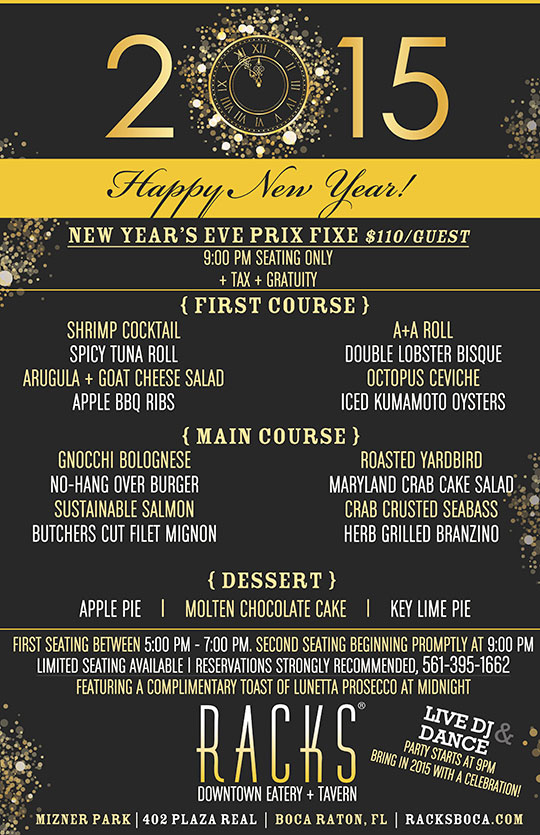 *****
September 18,2010
***** Racks Downtown Eatery & Tavern, Mizner Park-402 Plaza Real, Boca Raton, Florida 33432, (561) 395-1662.
Just had dinner at Racks Downtown Eatery & Tavern…a terrific-casual-moderatley priced American-Style joint, which opened in Mizner Park about 3-months ago. Based on this first outing…I will definitely be back for another go-round. Now if you-can…think The Cheesecake Factory with-shall we say–s t y l e…and you got Racks. Better yet, check www.grrestaurant.com for menu/prices/pictures and you'll get a real good feel for what's going on at this joint.
First things first. Racks has indoor and outdoor patio seating. There is a full bar and the guys who own this joint—must have spent a fortune decorating inside and outside. Check the photos on its website and you'll see what I'm belly-aching about.
This evening, Phil was our waiter…and the guy was good. He knew the menu cold—and took our order without writing down one single item…and yes, everything ordered, showed up—cooked right and on time. He also made sure that water glasses, soda glasses, coffees were always filled.
A taste test-in no particular order-of… garden salad, caesar salad, bacon cheeseburger, french fries, crabcakes, macaroni & cheese, wood oven roasted chicken, filet mignon, key lime pie—like I said, I will definitely be back. The food was delicious…absolutely nothing to complain about—-EXCEPT…Racks should know better—the ketchup & mustard which were served in "old" fashioned yellow and red plastic squeeze bottles were COLD. I don't know about you… but this Brooklyn boy knows…that french fries are suppose to be drowned in room temperature ketchup not COLD ketchup. I also know that sauerkraut on a Nathan's hot dog is suppose to be hot and that no one in their right mind would ever put ketchup on a hot dog!
I really enjoyed Racks… stylish, yet casual. It's got a great vibe, but be forewarned, someone in the cd-department loves to play Led Zeppelin and The Romantics…to that someone, you are playing the "music" way and I do mean way—too loud.
Racks is open 7 days a week 11:30am-2am.