The Sing-Off Live Tour (Coral Springs Center for the Arts-Coral Springs)
* The Sing-Off Live Tour.
Jeff Eats loves this tv-show.
You can catch "early bird" tickets- at coralspringscenterforthearts.com.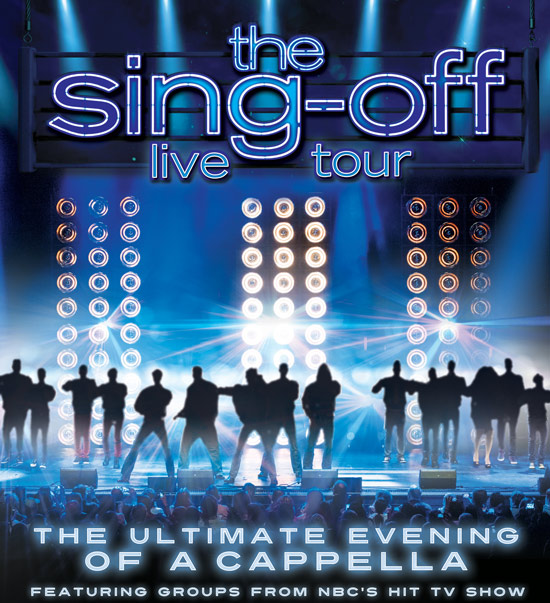 48-Hour Exclusive Pre-Sale begins now!
The Sing-Off Live Tour
March 12, 2015 | 7:30pm
Use Promo Code: PITCH
Online purchases only.
Buy Tickets: coralspringscenterforthearts.com.
The Sing-Off, NBC's No. 1 rated a cappella music competition, returns to the road this February for its second national The Sing-Off Live! Tour. The tour comes to the Coral Springs Center for the Arts on March 12, 2015. The Sing-Off Live Tour! will feature The Sing-Off fan favorite groups VoicePlay (season 4) and Street Corner Symphony (season 2) plus one more group from this year's 2-hour The Sing-Off television special which airs Wednesday, December 17th at 9PM ET/PT on NBC. On tour the groups will perform their a cappella versions of this year's chart topping hits as well as favorite arrangements from the TV show.
The tour will offer the ultimate a cappella experience, giving fans of the show a unique opportunity to see their favorite groups perform live, and fans of a cappella music an incredible evening of some of the country's top talent. In addition to headlining talent, each concert will feature local a cappella groups to open the show, allowing fans of the genre the chance to discover top local talent as well.
The 2015 tour will feature musical direction by Deke Sharon, known among the a cappella community as "The Godfather of Contemporary A Capella." In addition to working as arranger, consultant, and producer on The Sing-Off, Sharon served as musical director and arranger for the hit film Pitch Perfect and the upcoming film Pitch Perfect 2. The tour will include individual sets from each act, brand new group numbers, ultimate sing-off's and a few surprises.
"A cappella is at its very best when experienced in person, which is why I'm thrilled to be working with The Sing-Off Live! Tour once again, bringing some of the world's greatest groups to theaters around the country," said musical director Deke Sharon. "People will not believe their ears when the hear our Sing-Off stars, and we love introducing audiences to theirown fantastic local groups."