Brass Ring Pub (North Palm Beach, Royal Palm Beach)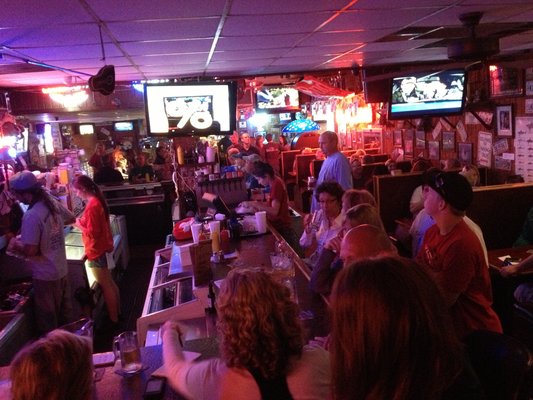 ***** Brass Ring Pub, 200 U.S. Highway 1, North Palm Beach, Florida 33408, (561) 848-4748.
Hey Bunky!
Got the -New Jersey son, daughter-in law and their two kids aged 9 and 11- in town for the Thanksgiving Holiday…and you're looking for a real good casual joint to take them to-for dinner before you happily put them on this coming Sunday's-2:30pm Newark flight? Hey! It wasn't your fault that it was too cold to go swimming! Well, at least you did something right, sonny-boy 42 is a partner in a successful retina group.
Then think about doing…Brass Ring Pub- great burgers, fries, wings, bar-food…just so you know, there are 2 Brass Ring Pubs, 1-in North Palm Beach, 1-in Royal Palm Beach…both are dynamite, but- for no particular reason Jeff Eats is partial to the North Palm Beach joint…I've been eating there since 2008-and it hasn't missed even one time!
You can check menu/info at brassringpub.rkorson.com.
Printed below is Jeff Eats' write-up from 10/29/08.
*****
Brass Ring Pub (North Palm Beach)
Posted on October 29th, 2008 · American
***** Brass Ring Pub, 200 U.S. Highway 1, North Palm Beach, Florida 33408 (561) 848-4748.
If you get yourself a copy of Webster's Dictionary and look up the defintion of the word "joint"…I'll bet you that a picture of the Brass Ring Pub is there. Guaranteed, that if you weren't explicitedly looking for this joint, you would never-ever stop at this restaurant-pub in a million years.
Let's make this review as simple as possibe…HOLE IN THE WALL…WOOD BOOTHS AND TABLES…WALLS COVERED IN GRAFFITI… TVS-POOL TABLES…OUTRAGEOUSLY GREAT HAMBURGERS AND OUTRAGEOUSLY GREAT CHICKEN WINGS.
Last night was my first time. I loved everything about this joint and unless you are an old "fuddy-duddy" you will too!
The Brass Ring Pub is open 7 days a week 11am-1:30am.