Andrew Dice Clay's Autobiography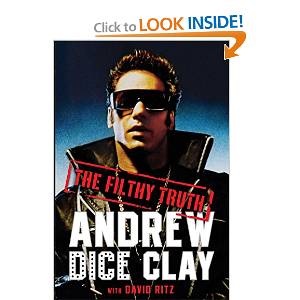 * Andrew Dice Clay's Autobiography.
Just finished reading- Andrew Dice Clay's recently released (11/11/14) Autobiography -"The Filthy Truth" and I gotta tell you it's a very interesting read.
For those of you who just landed from Mars, Andrew Dice Clay is one of America's most famous-controversial comedians.
Whether you are pro-or-con on Dice, I seriously recommend that you give this book a read. A real fast paced telling-of the rise, fall and resurrection of a Brooklyn Jewish Kid in the entertainment industry.
Jeff Eats and Mrs. Jeff Eats first met Dice on February 14, 1990 at the Concord Hotel in Kiamesha Lake, New York-we ate dinner with him, his fiance Trini, his body guard Kenny and Kenny's wife and we were seated together in the Hotel's showroom-on 2/14 and 2/15…and I must tell you, Andrew Dice Clay was one of the most pleasant and engaging "stars" that we have ever met. From that weekend to date, Jeff Eats and Mrs. Jeff Eats have been huge fans of this comic genius.
Like I said before, people either hate or love the guy…
Read the book (I got my copy on Amazon.com)-it will definitely give you some insight as to what makes the now 57 year old-Dice…tick!