Doctor Zarr's Amazing Funk Monster (Mardi Gras Casino-Hallandale Beach)
* Doctor Zarr's Amazing Funk Monster.
Jeff Eats has seen Doctor Zarr's Amazing Funk Monster and the band puts on a tremendous show.
Try and catch these guys, as this Memphis based band doesn't play Florida all-that-often…
This is gonna be a real good event…and it's free!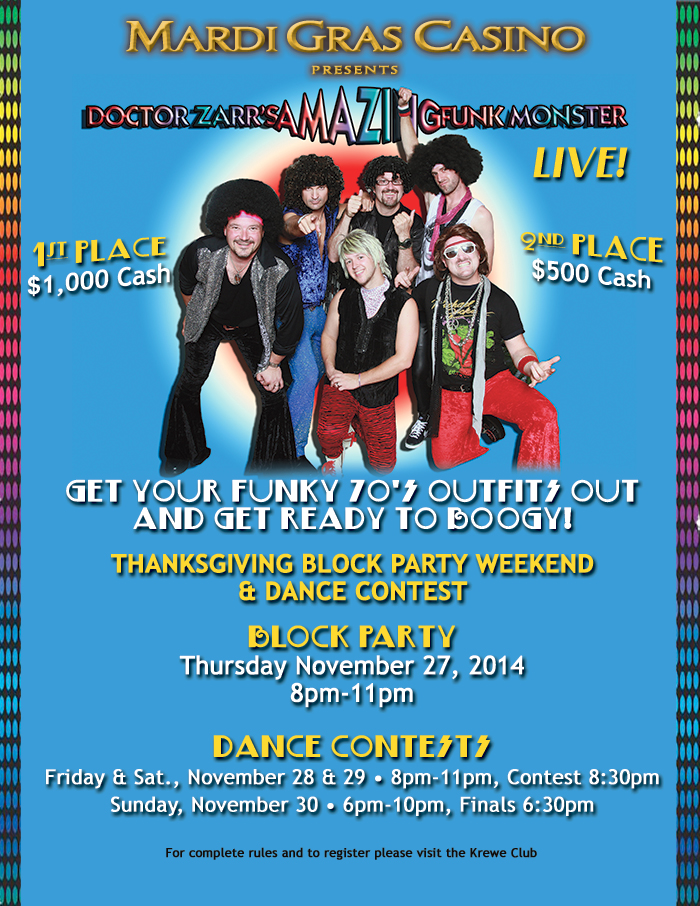 Mardi Gras Casino Presents
Wes Bowers' Doctor Zarr's Amazing Funk Monster Band!
Thanksgiving Weekend
HALLANDALE BEACH – (November 20, 2014) – Mardi Gras Casino invites you to come dance your turkey off during Thanksgiving weekend! Wes Bowers' Doctor Zarr's Amazing Funk Monster Band will perform on their wildly successful Gulf Coast State Tour starting with a block party on Thursday, November 27th from 8pm-11pm. Then, guests can come dressed in their favorite 70's attire and dance all night on Friday and Saturday, November 28th and 29th beginning at 8:30pm for a chance to participate in the final dance contest on Sunday, November 30th beginning at 6:30pm. First place winner will receive $1,000 cash and 2nd place will receive $500 cash! It's a weekend-long event not to be missed!
Dr. Zarr has entertained legions of funky partygoers throughout the South for a decade. From disco infernos to 80's glam rock, these guys have created one of the most energetic, fun, and professional party bands you'll ever see. With costume changes, great sound and lighting systems, and lots of audience participation, Dr. Zarr will make your party the one they'll be talking about all year.
Mardi Gras Casino is located at 831 North Federal Highway on the corner of US-1 and Pembroke Road. The casino offers over 70,000 square feet of casino excitement featuring over 1,000 of the hottest Las Vegas-style slot machines, including Progressive slots, virtual roulette and blackjack, as well as The Dog Pound, Mardi Gras' smoker-friendly slot area; 30 action-packed poker tables; simulcast and greyhound racing; entertainment; and various dining options. For more information, call 954-924-3200 or visit www.mardigrascasinofl.com. Become a fan on Facebook at http://www.facebook.com/mardigrascasino or follow us on twitter at http://www/twitter.com/MardiGrasFl.