Pastrami, Corned Beef, Brisket- My Man!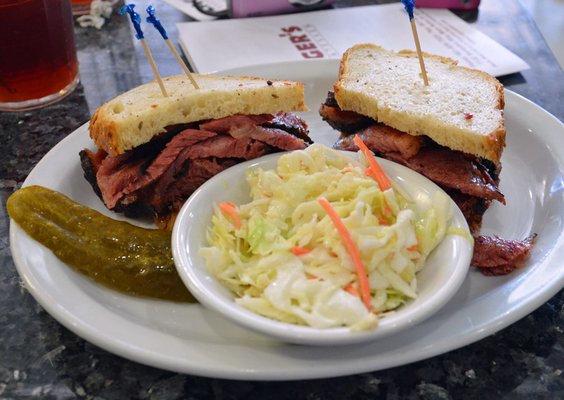 ***** Pastrami, Corned Beef, Brisket- My Man!
A recent e-mail,
Jeff,
Maybe you can help me out here.
I'm new to the area (Delray Beach).
I'm looking for a place to get great corned beef, pastrami, brisket sandwiches like they serve at Katz's in NYC. Not interest in the Natioanl Deli garbage that Too Jays and bagel joints serve up.
Would really appreciate some recommendations.
Thanks,
MY MAN
*****
MY MAN:
First, welcome to South Florida.
If you check JEFF EATS-up at the top there is a SEARCH BOX…type in PASTRAMI, or CORNED BEEF, or BRISKET- (you may also want to throw in DELI-for good measure) and it will pull-up for you all of the "columns" that relate to pastrami, corned beef, brisket. If memory and my waistline serve me correctly, you'll find a load of joints that make some pretty decent stuff.
Just so you know, Jeff Eats' style isn't to be in the pecking order business. What I might like, you might not like, so forth and so on! With that in mind, IF I had to pick ONE JOINT-near you- to feed my face with Pastrami, Corned Beef and Brisket it would be ZINGER'S DELICATESSEN in Boca Raton…now, if Zinger's doesn't work for you- don't worry, there are a load of other joints that will fix-you up just fine!
By the way, based on your e-mail, I'm thinking that you'll soon be "writing" Jeff Eats about good-Chinese joints. So, save the ink…use the same SEARCH BOX for my "picks"-you know, sweet & sour pork, egg rolls, pan fried dumplings, so on and so forth…
Hope this helps you out.