Spanky & Dino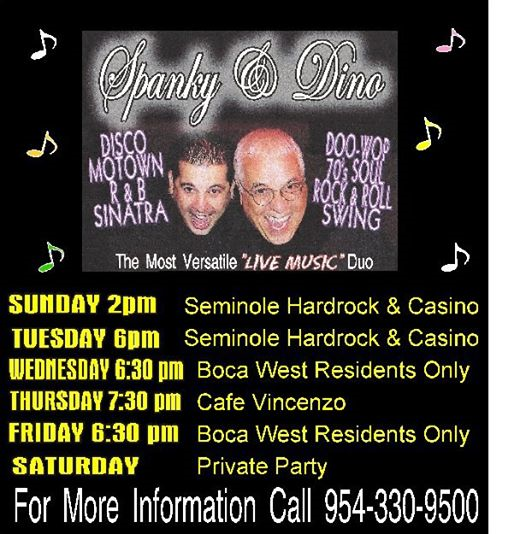 * Spanky & Dino.
A recent e-mail from reader Linda E.
Jeff,
Maybe you can help me and my husband out.
We are planning my husband's 65th birthday and are looking for a musical duo that could play at the party.
We have already reserved our Boca Raton country club's ballroom for February 2015.
We are planning on having give or take 150 people.
Most of our guests will be in the 60-75 range but there will be a number in their 30s-50s.
Can you recommend a duo or even a trio that can play 50s-90s?
We are thinking that $_________ is within our budget for 4 hours.
We would greatly appreciate your input here.
Thank you very much,
Linda E
*****
Linda E:
Got the perfect duo for you, Spanky & Dino (spankyanddino.com).
Two guys -both sing…one is on keyboard the other is on drums-that do terrific covers of 40s-90s hits.
Spanky & Dino have been around for years and seemingly- on any given day/night can be found-working at a South Florida- country club/restaurant/festival/party/casino. Not to give away my age or nothing, but Jeff Eats first caught the "duo" at Dinopetes (which was a night club located right across the road)- 5 years before the Hard Rock Hotel & Casino in Hollywood opened for business. Spanky & Dino killed it back then and today-are still right on the money!
No question in my mind, Spanky & Dino will do you proud at the 65th birthday party…
My best wishes to your husband and tell him that I recommend buying Supplement "F" when Medicare rolls around in a few months.