Odyssey Road (Delray Beach Center For The Arts- 11/14/14-Delray Beach)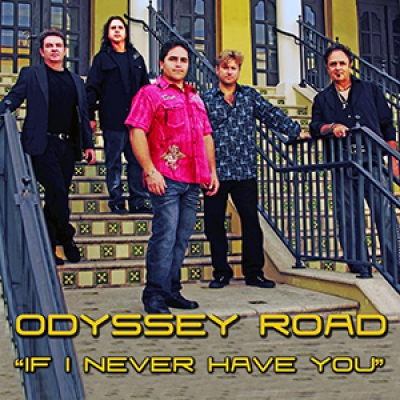 * Odyssey Road.
Jeff Eats has been kicking-around the music business for over 45 years. Trust me when I tell you, I've literally seen thousands of cover-tribute bands.
Now to the point,
South Florida based- Odyssey Road-has to be one of the best Journey-tribute bands that I have ever seen. These guys aren't just good, they are outstandingly good. In the cover/tribute band business it is quite a feat for an act to draw 100s of people to its shows…amazingly, Odyssey Road consistently draws 1000s. A month or so ago, the band played Boca Raton's- Mizner Park Amphitheater and you would have sworn that The Beatles were there (well, that may-be a drop over-dramatic) but I will tell you, that parking was so hard to find, that lawn-spots right outside of Mizner were fetching 10 bucks a piece. Just between you and me, something like 5,500 (a Mizner Park Amphitheater attendance record) showed up to watch Odyssey Road -so Jeff Eats is thinking, that just maybe I'm not so crazy about how good this band really is!
Just an observation, Journey's music (70s-80s) seems to transcend age. Jeff Eats has been to all kinds of events-and amazingly 10 year olds, 20 year olds. 30 year old, so-forth and so on…all know the words to Journey's hits. The band's fan base is gigantic.
Jeff Eats has previously mentioned and highlighted Odyssey Road's-appearances…
Just a suggestion:
*****
ODYSSEY ROAD
November 14, 2014
Delray Beach Center For The Arts-At Old School Square
Free Friday Concert, 7:30 p.m.; Outdoor Pavilion. The ultimate Journey tribute band, Odyssey Road was formed with only one intention: To perform the greatest hit songs ever recorded by the legendary rock group Journey, as a tribute to the amazing music they created.
There is no intention of trying to pass off as a look-a-like to the original artist. Odyssey Road possesses the passion to perform Journey material with the feel and energy that would have even the most loyal purist begging for an encore. As fans of Journey, this five-piece powerhouse vocal quintet captures the influence of the music and style of the legendary group "Journey."
Rain or shine; bring your blankets and chairs, and bring the family… but PLEASE, no pets or outside food or beverages. Food trucks and cash bar available.