Boulevard Subs (Oakland Park)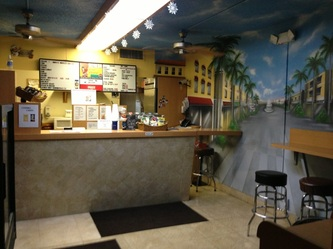 ***** Boulevard Subs, 1100 East Oakland Park Boulevard, Oakland Park, Florida 33334, (954) 561-1934.
Got a real good sub joint for you…Boulevard Subs-in Fort Lauderdale.
Jeff Eats knows that you guys are a smart bunch, but -just in case I'm wrong…hole in the wall/handful of tables-inside & outside/order at counter-pickup at counter/menu- loaded with cold-hot subs/sandwiches/wraps/salads.
Check blvdsubs.com for menu/prices-handful of pictures.
Boulevard Subs has been around since 1984…so I'm thinking, that just maybe its doing something right. Before I tell you what Jeff Eats "tried" subs come in 3 sizes, 6″-9″-12″ and are priced $5.90, $7.55, $9.45.
On the subs' try-out front…I did -chicken salad, tuna salad, meatball, Philly cheesesteak, Italian (ham, salami, capicola, provolone) and I gotta tell you-Boulevard makes some real nice subs. For those of you who might be new to Jeff Eats, I'm a big eater-but trust me, I didn't eat all of the subs by myself…just so you know, my friend Mike drove me to Boulevard Subs.
Jeff Eats really isn't into -ranking joints…you know, what I like you may not like and vice versa. That said, if Boulevard Subs was by my house I would definitely be a steady customer. For what it's worth, I really enjoyed the soft-yet slightly crispy bread (whatever that means), the "fillings" were right on the money, the sandwiches were not skimpy, the folks running the joint were as pleasant as could be, the prices -extremely reasonable.
Not much more to tell you…other than Boulevard Subs is open Monday-Saturday 10am-3pm, closed on Sunday.