Two Reviews Of Fish Shack (Pompano Beach)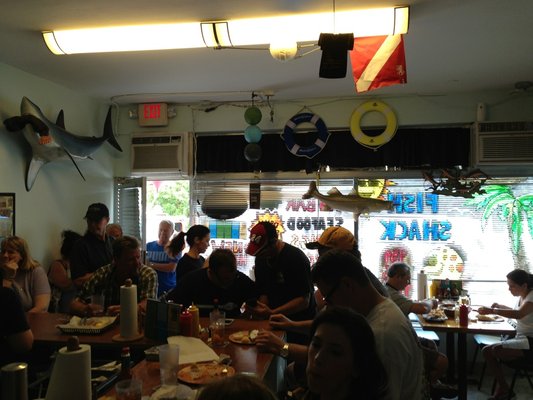 * Two Reviews Of Fish Shack.
Thought-you guys might like to read Two Reviews Of Fish Shack…one by Jeff Eats–one by the Sun Sentinel.
For sure, both reviews get you there, but if I do say so myself- Jeff Eats spared you the DRAMA…and in this particular case, had you eating there 22 months sooner!
The things that initially-concerned (if that's the right word?) the Sun Sentinel about Fish Shack–were the very same things that -drew Jeff Eats to the joint- in the first place.
As always, Jeff Eats "…Finding the best joints in South Florida."
—–
Review #1-Jeff Eats
Fish Shack (Pompano Beach)
Posted on December 28th, 2012 · American Pompano Beach Seafood · [edit]
***** Fish Shack, 2862 Northeast 17th Avenue, Pompano Beach, Florida 33064, (954) 586-4105.
Jeff Eats recently "discovered" an absolutely amazing "mom & pop" fish joint…Fish Shack in Pompano Beach.
Wanna talk hole-in-the-wall? The joint is located in a miniscule bombed-out strip center…maybe table seating for 20 and 5 at the bar. Fish Shack's menu is loaded with fish-stuff…that said, it has hamburgers, chicken breast sandwiches, wraps, salads and chicken wings for the non-fish eaters that may-be in your party. Outrageously delicious reasonably priced…blackened red snapper–grilled yellow fin tuna–conch fritters–fried oysters–cheeseburger–shrimp burger.
Every so often Jeff Eats comes across an absolute HOMERUN…Fish Shack is a GRAND SLAM!
Like I said a few seconds ago…hole in the wall, fabulous food.
I highly recommend that you try Fish Shack. The bet here–you won't be disappointed.
Fish Shack is open Monday-Saturday 11am-9pm, closed on Sunday.
—
Review #2-Sun Sentinel
Tiny Fish Shack is a big catch
By John Tanasychuk, SouthFlorida.com
10:29 a.m. EDT, October 17, 2014
★★★½
I've never been more hesitant to recommend a great restaurant. Not when the restaurant seats just 22 people and doesn't take reservations. Not when waits in-season can go as long as 90 minutes. Not when Fish Shack is nothing more than a 600-square-foot bay in a scrappy plaza that's also home to a coin laundry and a storefront church.
But wait, as I did, for 15 minutes, and the delights of Fish Shack reveal themselves.
We waited on plastic patio chairs with glasses ($3.95) of no-name red wine. (The restaurant also serves Bud and Bud Light on draft for $2.) We chatted with a nice woman who quickly dropped us when her date arrived in an ancient Chevy Astro.
Fish Shack is a democratic restaurant, however, with plenty of diners driving Lexuses and Mercedes. But unlike so many places in South Florida, here your socioeconomic status doesn't mean blip. If you suffer from feelings of entitlement, I suggest you go elsewhere. But you will miss out on some of the best seafood in South Florida. It's simply prepared, and simply presented.
Wait, like everybody else, and you'll eventually find yourself sitting at one of the four tables or eight counter seats. You'll meet Elisa, Amy or Jodi, who will treat you like a long-lost childhood friend while juggling the growing line at the door with grace and humor.
Elisa Focarazzo is in charge of the front of the house. Mike Focarazzo, her ex-husband and owner of Fish Shack, works the kitchen.
Mike tells me by phone that he doesn't need the business that a review might bring, but he seems to welcome the accolades. He somewhat reluctantly opened the restaurant a little more than three years ago. He'd failed with a Boca Raton pizzeria, but his brother Joe convinced him to give it a go. Joe works at a wholesale fish supplier and promised he'd only sell him the best seafood. The brothers have spent most of their lives working around seafood, either at the wholesaler or while loading and unloading fishing boats.
What is it about Fish Shack that keeps the crowds coming?
"I've got to say that we use the best fish that money can get," Mike says. "We use the best, and you've got me in the kitchen watching everything that's coming out of that window. You'll never hear anyone say their sandwich was cold and the fries were hot. It doesn't go that way."
The sandwiches are served on kaiser rolls with lettuce and tomato. Cod ($9.95) is beer-battered, but grouper ($11.95) and mahi mahi ($10.95) can be ordered grilled, Cajun spiced or blackened.
Oysters ($6.95, half dozen) or middle-neck clams ($6.95, half dozen) are good starters, but we were drawn to chicken wings ($8.50 for 10), which we ordered naked instead of battered. Oversize, they can be had with chopped garlic, garlic Parmesan, barbecue or Buffalo-style mild, medium or hot. Medium sauce on the side was perfect.
Dinners are served with a choice of two sides: fries, coleslaw, rice or side salad. The fries are crispy, golden and piping-hot. The side salad is serviceable, for diners watching their calories.
While the fried fish looked incredible, we ordered our dinners grilled. The grilled combo ($16.95) features mahi mahi, scallops and shrimp. The scallops, size 10/20, are dry-shucked instead of the more common wet-shucked, in which a preservative is added. Like the mahi and the shrimp, they are very lightly seasoned before hitting the grill. Nothing was overcooked. Meaty grilled grouper ($14.95) has never tasted so fresh, so unadulterated.
A sign on the wall wraps up the Fish Shack ethos: "Fast food is not good. Good food is not fast."
Key lime pie ($2.95) is the only dessert on the menu.
"Do you make it here?" I asked.
"Sometimes," was the very honest answer.
Go to Fish Shack. But go knowing that you'll have to wait. Plan on it.
"I've been asked to move to the Keys," Mike says. "I've been offered partnerships. I've been offered everything. But I'm not moving, and I'm not expanding. The Fish Shack is the local hole in the wall that's going to stay that way."
jtanasychuk@SouthFlorida.com or 954-356-4632. Read his blog at SouthFlorida.com/sup and follow him on Twitter at @FloridaEats.
Fish Shack
2862 NE 17th Ave., Pompano Beach
954-586-4105
Cuisine: Seafood
Cost: Moderate
Hours: 11:30 a.m.-9 p.m. Tuesday-Saturday
Reservations: Not accepted
Credit cards: All major
Bar: Beer and wine
Sound level: Moderate
Outside smoking: No
For kids: Highchairs, menu items on request
Wheelchair accessible: Yes
Parking: Free lot