B.C. Tacos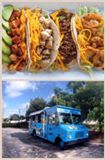 * B.C. Tacos.
Last week Jeff Eats and Mrs. Jeff Eats went to a 2 hour block-party in Boca Raton. Terrific afternoon…handful of food trucks, unlimited bottled waters/sodas, handful of tables, local band, folks brought their own "hard" stuff. More "neighborhoods" should try the -concept out. Something like 100 people -an-all-you-could-eat deal priced at- $16.50 a head.
Real simple story…
One of the food trucks was B.C. Tacos. I've posted-its menu down-below…B.C. Tacos does food truck events/private parties in Dade/Broward/Palm Beach Counties.
As I mentioned 3 seconds ago, this was an all you could eat-situation…so Jeff Eats "tried"- steak taco, chicken taco, barbeque pulled pork taco, smores taco–and I gotta tell you every taco was delicious. If the food that I had- is any indication of what's "made" in Mexico, then for the life of me, I can't figure-out why so many Mexicans are trying to illegally cross into the United States. Like I said 3 seconds ago, the stuff was absolutely delicious!
To make a long story short, during the afternoon I got to talking with B.C.'s owner Brett Chiavari (thus-the B.C. name) and he told me, that- at most food truck events, the tacos go-out for 5 bucks a piece. Brett also mentioned that he owns a "brick & mortar" location named B.C. Café at 4801 South University Drive, Davie, Florida 33328 (954) 801-4123.
Now- before we wrap this one up, Jeff Eats must- once again remind readers that in 1966 at Erasmus Hall High School in Brooklyn, New York–I barely passed Spanish- by the skin of my teeth…so my "Mexican/Latin" credentials-may-be suspect! One other item, while I'm playing cute with you, multiply the number of tacos I had-by their normal cost and I dare you to-tell me that Jeff Eats doesn't know a bargain block party when he sees one!
For more info on B.C. Tacos and B.C. Café checkout bctacos.com and bc-cafe.com.
*****
Menu
Each taco comes with your choice of a hard corn tortilla or soft flour tortilla, and choice of salsa.
Gourmet Tacos
*The Hunter
steak taco, served with lettuce and shredded cheddar cheese
*The T-Rex
chicken taco, served with lettuce and shredded cheddar cheese
Barbarian Bacon Cheeseburger
served with lettuce, tomato and cheddar cheese
Pulled Prehistoric Pork
barbeque pulled pork served with coleslaw and corn
Cave Dweller
chicken caesar taco, served with romaine lettuce, parmesan cheese and caesar dressing
*Mammoth Mahi
served with lettuce and shredded cheddar cheese
The Missing Link
fried mahi, served with green cabbage and shredded mozzarella cheese
The Encino Man
buffalo mahi, served with lettuce, cheddar cheese, avocado topped with buffalo sauce
*Stone Age Shrimp
served with lettuce and shredded cheddar cheese
The Gatherer
fried avocado taco, served with lettuce, shredded mozzarella cheese and topped with a chipotle mayo
Our Speciality
The Caveman
over a quarter pound of burger patty, steak and braised beef short ribs with lettuce and cheddar cheese, sandwiched between two halves of a hard taco shell then wrapped in a flour tortilla…you have to see it to believe it!
Brontosaurus Bowls
your choice of taco served in a lettuce cup
Homemade Chips
salsas – pico de gallo, tomatillo, habanero and avocado
Dessert
Dino Delight
smores taco…how do you make a delicious dessert even better? Put it in taco form!
* indicates prepared with garlic, shallots, blackened seasoning and white wine
***If you can't make it to the truck, don't forget about our restaurant BC Cafe in Davie!