Jay & The Americans, Drifters, Belmonts, Chiffons, Tufano (FAU-Boca Raton)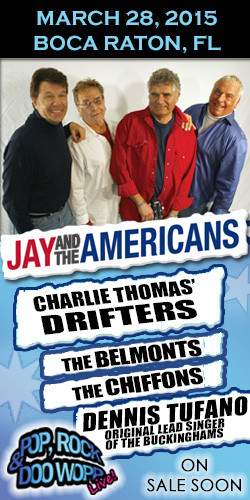 * Jay & The Americans, Drifters, Belmonts, Chiffons, Tufano.
Trust Jeff Eats on this one, I know my "oldies shows"…with that in mind, I just heard about-one that is coming to FAU-Carole & Barry Kaye Auditorium on Saturday Night- March 28, 2015 that should absolutely kill-it!
For the record, I've seen all 5-acts on the bill-and I am telling you, if you're an Oldies-fan…you will absolutely love this show.
Now, Jeff Eats knows that 3/28/15 is 5-months away…but I'll bet you a buck, that when-tickets go on sale at fauevents.com and poprockdoowopp.com they sell-out in one day.
Just a drop of info-for you guys, the current Jay And The Americans features three original members (Sandy, Marty, Howie), The Drifters are lead by original Drifter-Charlie Thomas, The Belmonts are fronted by original Belmont-Angelo D'Aleo, The Chiffons got original lead singer-Judy Craig upfront and Dennis Tufano was the original lead singer of The Buckinghams (by the way Dennis is a relative "newcomer" to the Oldies' circuit–and has a tremendous voice!)…
Like I said before -trust Jeff Eats when I tell you-that when these 5-acts take to the stage you'll swear you're at one of Murray The K's Brooklyn Fox 1960's shows.
No bs-ing here, all of the acts still "got it"…and you will be be blown away by their performances.
TICKETS ARE NOT YET ON SALE…so if you wanna go to this show, you're gonna have to keep a close eye on the two websites I gave you above. By the way, the poprockdoowopp.com site has a sign-up "thing" that keeps you informed as to when tickets go on sale- and about future shows-coming, so you may want to sign-up on the site.