Tapestry: A Tribute To Carole King (FAU-Boca Raton)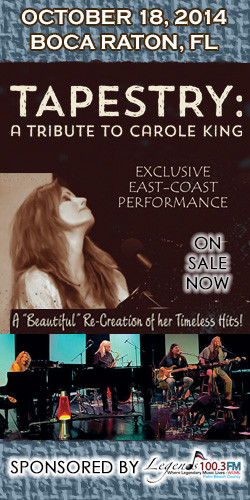 Tapestry: A Tribute To Carole King.
First told you guys about this show on 9/12/14…
Hearing that there are a handful of tickets still available.
If you are a fan of Carole King, you'll love Tapestry: A Tribute To Carole King.
*****
September 12, 2014
Tapestry: A Tribute To Carole King.
If you are a fan of legendary music genius-Carole King…go see Tapestry: A Tribute To Carole King!
Trust Jeff Eats on this one…this "tribute" show will absolutely blow you away and have you "believing" that Carole King is right in front of you!
Jeff Eats is thinking that most of you guys know that-one of Broadway's hottest shows is "Beautiful The Carole King Musical"–no bs-ing here, the Tapestry show plays at the same level.
You can catch tickets by calling (561) 859-0846 or online at fau.edu, poprockdoowopp.com.
*****
Date: October 18, 2014
Time: 8:00 p.m.
Venue: FAU-Carole & Barry Kaye Aud. Boca Raton, Florida
A "beautiful" re-creation of her timeless hits by the live vocalists and musicians of Tapestry, direct from California in their only east coast appearance this season!
Carole King is without question the most successful and revered female singer-songwriter in pop music history. More than 400 of her compositions have been recorded by over 1000 artists, resulting in 100 hit singles — from "Will You Love Me Tomorrow", "Take Good Care of My Baby", "Run to Him", "Crying in the Rain", "The Loco-Motion", "Up on the Roof", "One Fine Day", "I'm Into Something Good", "Just Once in My Life" and "Don't Bring Me Down". Her 1971 album "Tapestry" took King to the pinnacle, winning all 3 of the key Grammy Awards — record, song and album of the year as well as best female vocalist honors for King. With more than 25 million units sold, Tapestry remained the best-selling album by a female artist for a quarter century and King went on to amass three other platinum and seven gold albums.
Tapestry: Tribute to Carole King faithfully recreates the glorious sound of a live Carole King concert, leaving you with memories of the great music she wrote and recorded, including "You've Got a Friend", "Natural Woman", "It's Too Late", "So Far Away", "I Feel the Earth Move" and "Beautiful", the title song of the mega-hit Broadway musical about the life and times of one of America's most prolific, honored, and revered singer-songwriters. Enjoy an evening of the signature sounds of Ms. King with this must-see show that everyone calls "Some Kind of Wonderful."