The Dandee Donut Factory (Pompano Beach)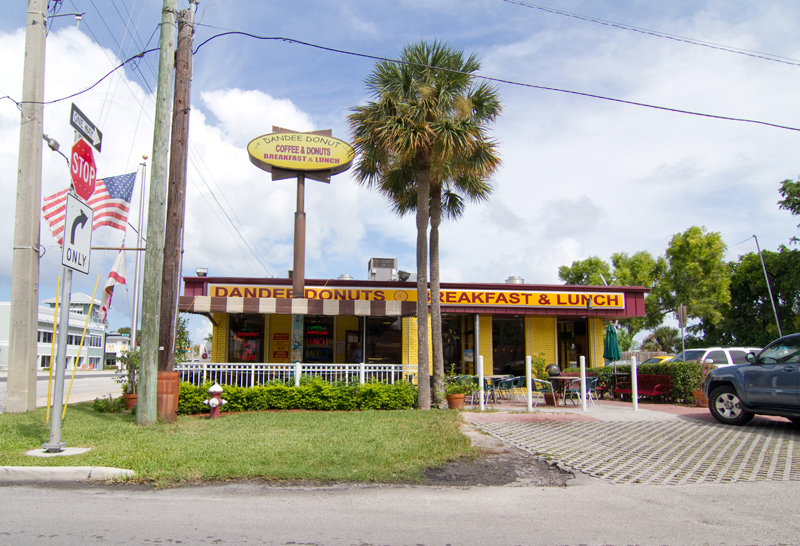 ***** The Dandee Donut Factory, 1900 East Atlantic Avenue, Pompano Beach, Florida 33060, (954) 785-1461.
Let me start by saying that Jeff Eats LOVES-The Dandee Donut Factory-in Pompano Beach.
For the record, Jeff Eats originally told you guys about Dandee on 11/19/11-but some stories warrant "re-telling"…
Just so we are straight, there are two other Dandee Donut outposts in South Florida-Deerfield Beach and Hollywood…Pompano Beach and Hollywood are owned by the same guy, while the Deerfield Beach store has a totally different-unrelated owner.
For the purposes of today's story…I'm only talking about the Pompano Beach joint…which is open 24/7-which has indoor table/counter–outdoor patio seating…which makes amazing donuts and serves-up delicious "diner" food. If you are wondering why Jeff Eats is "featuring" Pompano Beach–it's because this is the joint that Jeff Eats and Mrs. Jeff Eats have been frequenting -to the tune of something like twice a month for years. While I'm busy telling you my life story- Hollywood's donuts/food are as good as Pompano's…Deerfield Beach's donuts are OK-but not great (Remember! I told you -this joint has a different owner not to mention a different baker)-but its diner food is decent enough.
At this stage of the game I'm gonna let you check dandeedonuts.com for menu/prices/other info.
If you got the time, you can "read" (or re-read, whatever the case may be) Jeff Eats'- The Dandee Donut Factory write -up (11/19/11).
I'm gonna close this story out by telling you, that if you want- terrific donuts, delicious diner food, fabulous pleasant service, perfect diner-decor (whatever that is!)…then you gotta get yourself over to The Dandee Donut Factory in Pompano Beach.
Oh! One other thing…
In surfing the net, Jeff Eats caught on TripAdvisor what I think is one of the greatest food reviews of all-time…
*****
Palermo, New Jersey
Senior Contributor
24 reviews 24 reviews 9 restaurant reviews
29 helpful votes 29 helpful votes
"Fantastic donuts!!"
5 of 5 stars Reviewed September 21, 2014 NEW
We rolled into Dandees about 1:00 AM at the end of August. Despite Pompano Beach being almost completely shuttered, Dandees was bustling. The donuts are far superior to Dunkin and the atmosphere was worth the trip. I believe my son met his future ex wife there!!