Right On Band (Kings Point-Delray Beach)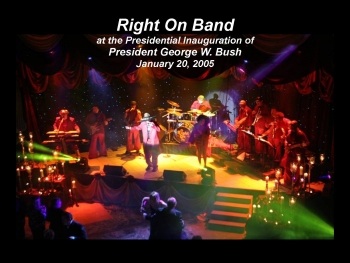 * Right On Band.
Real simple story…
My friend Nigel Holland is the lead singer and leader of the Right On Band-based out of Virgina Beach, Virginia.
In Jeff Eats' humble opinion- the 10-piece Right On Band is one of the best party bands in the United States. The band can literally play anything-that said, the group absolutely kills-it covering Motown, Disco and 70's Funk hits.
The Right On Band plays all over the United Staes-actually, make that-all over the world.
The band-rarely works in South Florida. When it does, Jeff Eats and Mrs. Jeff Eats make it our business to go see "Nigel & Company."
Just got off the phone with Nigel and he advised- that the band will be performing at Kings Point in Delray Beach on Friday, January 23, 2015 at 8pm.
Just so you know, Kings Point is one of the very few condos/country clubs/developments that allows "the public" to purchase tickets/attend events-shows. Tickets for the Right On Band (resident:$15, non-resident:$20) and the entire 2014-2015 Kings Point-schedule can be purchased online at boxoffice.kingspointdelray.com.
Let me wrap this up for you,
If you want to see the BAND that you should have had at your wedding, your kids' weddings, your bar mitzvah, your kids' bar mitzvahs, your bat mitzvah, your kids' bat mitzvahs, your anniversary party, your birthday party–so on and so forth…then you should definitely make it your business to see the RIGHT ON BAND!
You can checkout- the Right On Band video/audio/pictures/other stuff at rightonband.com