THE PERSUASIONS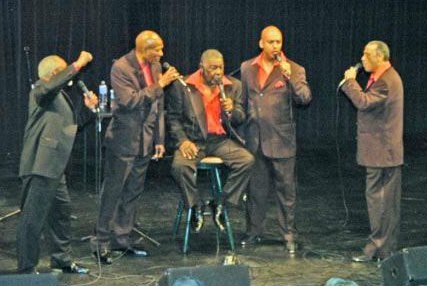 * THE PERSUASIONS.
Jeff Eats recently received the following email.
Jeff,
Long time reader.
Love the site.
Just curious, who in your opinion is/was the best recording 50's/60's a cappella group.
TURNER
*****
TURNER:
That question is impossible to answer.
There were so many great groups-that I would be an absolute fool to try and pick out a Top Dog.
I will tell you, that The Persuasions who to this very day still record/perform concerts are one of my favorite all time a cappella groups and would definitely be on a Jeff Eats' -Top 5 List-if one existed.
For some crazy reason which I can't explain, The Persuasions in recent years-rarely "worked" Florida.
It would seem to me, that the condo/country club/residential communities down here- would love this group in concert…by the way, I caught the group-in action about 2 years ago and they "still" got great leads and harmonies.
Anyway,
Check The Persuasions out at thepersuasions.info.
Printed below is a "drop" of bio- from their website.
*****
The Persuasions are A Cappella
Since those long ago days of 1962, The Persuasions have gone on to sing in concert halls and nightclubs the world over. They have released 26 albums, and opened for artists including: Frank Zappa and The Mothers of Invention, Ray Charles, Bill Cosby, and Richard Pryor. Amazingly enough, Roseanne Barr and Bruce Springsteen once opened for The Persuasions.
The Persuasions have long been the acknowledged "Kings of A Cappella." The group first came together on the streetcorners of Brooklyn, but all hail from different parts of the country. Original lead singer Jerry Lawson was from Florida. North Carolina is the birthplace of "Sweet" Joe Russell. Jimmy Hayes was born in Virginia and Jayotis Washington is from Motown, a Detroit native.
Herbert "Toubo" Rhoad, an original Persuasion and the group's baritone, passed away in 1988 while on tour. His ashes were scattered by his mates in San Francisco Bay, as per his wishes. Toubo's earthly voice may have fallen silent, but those who knew and loved him can still feel his baritone joining in whenever the Persuasions take the stage or hit the studio.
All the original Persuasions came from a strong history and deep background in church-based music. Their singing, style and musical inventory has always included the heavy influence of gospel, a major measure soul, and a dose of pop. Their legendarily eclectic repertoire has drawn from everything from Sam Cooke to The Temptations to Kurt Weill to Zappa; from country to blues to gospel to rock to jazz.
The Persuasions moved from streetcorners to parties to "performances" during the early 1960's, and worked with Robert F. Kennedy's Project Restoration to aid African-Americans living in the inner cities of America.
Legendary musician Frank Zappa and his wife Gail "discovered" The Persuasions in 1968. At the urging and encouragement of a good friend of the group, David Dashev (who eventually became producer and manager), Zappa listened to a tape of the group—over the phone. The result: he signed them and produced their debut album, "A Cappella," on Zappa's "Straight" label, in 1970.
The Persuasions next signed with Capitol Records and have since gone on to release a string of commercially successful and critically acclaimed recordings, releasing albums and CDs for MCA, A&M Records, Elektra Records, Flying Fish, Rounder and Rounder/ Bullseye Blues, Music For Little People, Earthbeat!/Rhino, Grateful Dead Records/Arista and Chesky Records.
The group's first ever recording specifically for children, "On The Good Ship Lollipop," was released in 1999, and won a bushel of awards from parents' organizations. In March, 2000, The Persuasions released an album in tribute to their old friend, Zappa, "Frankly A Cappella: The Persuasions Sing Zappa." At the time, Jerry Lawson of The Persuasions said, "Frank gave us our start, and this is our way of saying 'thanks'". The album was critically acclaimed in publications including People Magazine.
The Grateful Dead were next, when The Persuasions recorded a tribute album and released it in October 2000. The recording, "Might As Well: The Persuasions Sing Grateful Dead" celebrated the songs of Robert Hunter and Jerry Garcia. Both the Zappa and Grateful Dead albums were the brainchild of co-producer and longtime Persuasions friend, music journalist Rip Rense, who had also secured the deal and acted as project coordinator/annotator for "On The Good Ship Lollipop." In 2002, The Persuasions moved on to Chesky Records, where they recorded the "The Persuasions Sing The Beatles."
The Persuasions may not have invented a cappella. They have, however, carried the torch and kept the art form alive, sometimes singlehandedly, for over four decades. During the '60's and '70's, they were the only secular, pop a cappella group to get serious recognition and popularity—certainly the only a pop cappella group to sign with major record labels and to be played on FM radio along with the Rolling Stones and Beatles.
They have done this by staying true to themselves, true to the music and true to their fans. They have recorded and performed songs by artists ranging from Frank Sinatra to Sam Cooke to Bob Dylan, and from Lennon and McCartney to Rogers and Hammerstein.They have taken standards and children's classics and infused them with their own powerful style and substance. They can take any song, "Persuasionize it," and wind up with a new musical experience that often even surprises the original authors.
Through their dedication, staying power and perseverance, The Persuasions have paved the way for groups like Boyz 2 Men, Take 6, and Rockapella, all three of which acknowledge the group's influence.
During the mid 1990's, director, producer and avowed Persuasions fan Fred Parnes filmed the documentary, "Spread the Word: The Persuasions Sing A Cappella." The film has been screened at the Smithsonian Institute, and at exclusive and limited engagements and festivals in New York, Los Angeles, and through out Europe. It has garnered high critical praise from the press, including the L.A. Reader, New York Post and Hollywood Daily Variety.
What started out humbly in Bedford Stuyvesant, Brooklyn is now a venerable a cappella institution. The Persuasions have performed for fans in Alaska, Israel, throughout Europe, and in Australia. They have appeared on stage, on record and on disc with such diverse artists as Stevie Wonder, Bette Midler, Joni Mitchell, Liza Minelli, Van Morrison, Lou Reed Gladys Knight, Patti LaBelle, Little Richard, Nancy Wilson, The Neville Brothers, Country Joe McDonald, B.B. King and Paul Simon. The group's recordings have been featured in films ranging from "Joe Versus the Volcano" to "The Heartbreak Kid," from "Streets of Gold" to "E.T."
The Persuasions are equally familiar with the small screen. Their documentary, "Spread the Word" was shown on PBS, as was Spike Lee's "Do It A Cappella," which featured the group singing Kurt Weill's "Oh Heavenly Salvation." The group has made musical guest appearances on television shows that seem to cover the entire day: Good Morning America, the Today Show, The Tonight Show, and Late Night with Conan O' Brien. Weekends were covered with appearances on Saturday Night Live!
The Persuasions continue today with original members Jimmy Hayes, "Sweet Joe" Russell, with a supporting cast including Raymond Sanders and B.J. Jones, who joined in the early '90's, longtime Jimmy Hayes friend Gil Torres, and Dave Revels, who sang with the group on its Beatles album and arranged and co-produced The Persuasions' tribute to U-2. Jayotis Washington is on extended leave, and Jerry Lawson is pursuing a solo career in Phoenix, Arizona.
The Persuasions started out as a bunch of kids hanging around singing a cappella. They have gone on to become the undisputed grand old men of the genre.