China Express (Miami)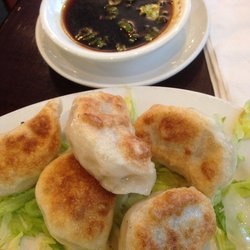 ***** China Express, 5748 West Flagler Street, Miami, Florida 33144, (305) 639-8281.
China Express is a Chinese takeout joint. Its got 3 tables- but takeout is the game.
The other day Jeff Eats had "some" business to take care of -right by China Express…so I picked-up egg rolls, pork fried dumplings, honey garlic chicken, pepper steak, shrimp with lobster sauce, shrimp chow mein, roast pork fried rice–and made it a working lunch at my friend Michael's office.
Real easy to score this joint…everything was delicious, the portions were huge, cheap prices.
You can check menu/prices/other info at chinaexpressmiami.com.
Like I said 2 seconds ago, this is a takeout joint-so it won't play for 98.89% of you. For the other 1.11% of you-you now know where to get some real solid Chinese takeout.
Right about now, some of you guys are "thinking" hey Jeff pretty skimpy review. To you guys I say, Chinese takeout, delicious food, huge portions, cheap prices-by my friend Michael's office…and if you insist, the fried pork dumplings and honey garlic chicken were worth the trip alone (which Jeff Eats had to make anyway)-down to Miami.
China Express is open Sunday-Thursday 11am-10pm, Friday-Saturday 11am-11pm.